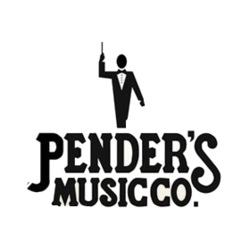 We're committed to helping student musicians gain valuable life skills through their involvement with events like the DBS competition
Denton, TX (PRWEB) March 29, 2013
Pender's Music Company is proud to announce its sponsorship of the annual Denton Bach Society's Competition for Young Musicians on Saturday, April 20.
Pender's President Richard Gore says, "Pender's Music is proud to be a sponsor of the Denton Bach Society's Young Artist Competition. It's important to encourage and assist talented student musicians by challenging and supporting their development. Participates will gain valuable life skills and have the opportunity to showcase their talent."
This marks the fourth year Pender's Music Company will serve as a sponsor of the annual event.
Any public or private high school or home schooled student in grades 9-12, who turned fourteen years of age by September 1, 2012, and is a resident of Denton or its adjacent counties is eligible to participate. Divisions of competitions will include voice, piano and orchestral instrument.
Student competitors will be required to perform two challenging classical selections of contrasting styles. Their repertoire must have been previously approved by the student's instructor/ensemble director, and by the DBS audition committee. Audition time will be limited to 10 minutes. Some selections may not be required to be performed in their entirety.
The winning competitor in each of the three categories, vocal, piano and instrumental, will be
awarded a cash prize of $150.00, a gift certificate from Pender's Music Company for $150.00, and an opportunity to perform at an upcoming Denton Bach Society event.
There is an entry fee of $15.00 per student. Contestants may mail a check payable to the Denton Bach Society with their completed application or opt for payment through PayPal, which is available on the Denton Bach Society web site.
Application forms are available online at http://www.dentonbach.com and at Pender's Music Company, located at 314 S. Elm in Denton.
Entry forms should be mailed to Heidi Klein, 621 Hillcrest St., Denton, TX 76201 and postmarked no later than Friday, April 12, 2013. Online applications should be emailed to heidiklein(at)verizon(dot)net and must also be received no later than April 12.
The competition will be held at the Music Building of Texas Women's University, located on Pioneer Circle, in Denton, Texas.
Entrants will be notified of the exact time and place of their audition the week prior to the event.
For more information, please contact:
Heidi Klein, Competition Chair
heidiklein(at)verizon(dot)net
(940) 566-5649
Founded in 1966, Pender's Music Co. is one of the nation's leading sheet music retailers, and provides a wide range of sheet music for all occasions to individuals, schools, churches, and music makers worldwide. Pender's vast online catalog includes jazz, marching band, instrumental, and the Texas UIL prescribed music list.