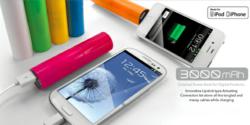 Australia (PRWEB UK) 29 March 2013
The stylish Plox 3000mAh portable Smart-Phone charger has officially launched and is already making waves in Australia & New Zealand. Designed as a functional fashion item, the Plox energy stick should live in every handbag and glove compartment for those times when the phone needs a quick charge.
It is a unique positioning strategy for an electronics company to take, but the Plox brand is one of fashion, beauty and quality. Aligning themselves with key fashion houses and technology commentators, Plox are a must watch brand in 2013/14.
So what is it exactly? Simply explained, the Plox energy stick (NATBP26) is a rechargeable battery for a digital device (Smart-Phone), be it Apple or Android. It carries enough electricity to charge an iPhone twice and is durable enough to stand up to a savage beating in a handbag or glove box.
The Plox energy stick is a modern solution to our power needs, whilst maintaining a stylish and fashionable design, look and feel. It is the must have tech gadget that makes the perfect gift for anyone.
Quality Guarantee
MFi approved by Apple, and built to the highest quality specification, the Plox device is an all-in-one charging solution for all Smart-Phone and PSP devices. Rigorously stress and performance tested, the Plox device is made to last, to travel and to look fashionable in everyone's collection.
Specification
Manufactured using the highest quality components, Plox enter the global market as a premium energy solution for digital device (Smart-Phone's) and their ever increasing power demands.

MFi approved by Apple
3000mAh (roughly two iPhone charges)
Compatible with Blackberry, Nokia, HTC, Sony, Samsung, LG and PSP
Twist out iPhone and USB connections
7 other phone connectors
Energy level indicator
Stylish & sleek design
Current Retailers
Harvey Norman
Duty Free
Next Byte - Apple Resellers
Ploxit are currently looking for new global distributors and retailers. If interested, e-mail Sean at sean(at)ploxit(dot)com