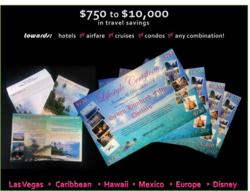 For the first time in the travel incentive industry, travel-incentives.net has released a suite of low-cost travel certificates that allow consumers the power of choice in where and how they want to travel.
Palm Beach, Florida (PRWEB) March 28, 2013
Travel-Incentives.Net's all-in-one give-away travel vouchers include all venues of travel in one single certificate. Marketers and employers no longer have to guess what type of travel incentive to offer. For a previously unheard of cost of less than $2.00 to the sponsor, these innovative vouchers provide the recipient with their choice of a cruise to Alaska, the Caribbean or Mexico, or a week in an all-inclusive resort, or airline tickets, or a hotel stay or family vacation, or better still, they can have them all, based on the value of their voucher.
Costs for these give-away vouchers have broken new ground starting at what sounds like an impossible price of less than $2.00 per voucher. "The secret of how such low costs are possible while still providing the top brands in cruise lines and hotel properties, is covered at How We Do It on the T-I website", explains Howard Cracower, a Director with Travel-Incentives.Net.
Through the use of T-I's travel incentives, businesses increase their sales volume and improve customer and employee retention, organizations increase their membership, and charities meet and exceed their goals. Through the power and excitement created by T-I's economical suite of Lifestyle Travel Certificates, a win/win situation is created for both the Sponsor and the Recipient.
Popular hotel and resort brands booked through T-I's travel vouchers include: Hyatt, Wyndham, Howard Johnson, Ramada, Quality Inn and Suites, Crowne Plaza, Holiday Inn, Red Carpet, Fairmont, Clarion, Sheraton, Hampton Inn, Comfort Inn, and Hilton. Cruise lines include: Carnival, Royal Caribbean and Norwegian, travelling to the Bahamas, Caribbean, Baja Mexico, Mexican Riviera and Alaska offering choices of 3, 4, 7 and 14-night cruises.
Successful users of travel certificates include auto dealerships, who may offer a complimentary Las Vegas get-away, or a cruise, or a $1,500 travel voucher for purchasing a car during a promotional period. A furniture retailer as a bonus for purchasing above a certain value or for purchasing a specific product. A bank for opening a new account, a realtor for listing your home, or a mortgage broker, for using their service. A full list of industry applications is presented on the T-I site at Industries Served. Organizations interested in learning more about T-I's travel options and voucher pricing should visit http://www.travel-incentives.net.
About Travel-Incentives.Net
Travel-Incentives.Net is the wholesale arm of e-softworld LLC, which has for more than 13 years, provided incentives and rewards to businesses and organizations from North America, Europe, Australia and India. "After distributing hundreds of thousands of travel certificates, T-I and our family of companies take great pride in our complaint-free record, which in this age of the Internet, is a powerful testament to our quality assurance and our commitment to safeguarding the Goodwill of our clients", states Cracower.