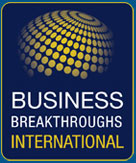 Having an accurate and optimized local listing can be an enormous benefit to any type of business
Pasadena, CA (PRWEB) March 28, 2013
While the Internet and search engines have, in theory, made it easier to find and contact local businesses and service providers, in practice, it can be difficult to navigate the web of multiple, conflicting, missing, and plain incorrect business listings. Business Breakthroughs International (BBI), a Tony Robbins and Chet Holmes company, recently expanded its Internet Marketing division to include local business listing services for small- and medium-sized businesses.
As the Yellow Pages and community mailers fade out of common use, the Internet, and specifically search engines, have taken over the role of directing consumers to businesses and service providers that operate on a local scale. But while the Yellow Pages was dedicated specifically to providing a list of local businesses, search engines operate globally, and for the most part, treat local listings as something of an afterthought. If a business can't be bothered to create their own listing in the local sections of Google, Bing, and Yahoo!, then the search engine is not likely to create the a listing for the business. And when search engines occasionally do populate these listings with information about a local business, the information they use is frequently incorrect. You may be losing customers who attempt to reach you through incorrect contact information from an unclaimed local listing, or customers may be confused by multiple listings that show your business in three different locations in a single neighborhood.
Search engines' local listings also play a key factor in local search results. Those businesses with a complete, verified, and optimized local listing will be listed near the top of a search query with local intent. Local intent is one of the most important areas that search engines are focusing on in an attempt to remain competitive, and local results are more frequently taking the place of global results in a growing number of searches.
Search engines don't make it easy for businesses to create, claim or optimize their local listings. Fortunately, BBI's local business listing service can work with small businesses to create clear, accurate, optimized listings and remove incorrect and conflicting contact information from across the web. BBI's local business listing campaigns are based upon keyword research, and help companies of all sizes create search engine optimized business listings, which are then updated regularly with customer reviews, special offers and videos. These listings help businesses get found by customers and rank highly for searches with local intent.
The way people search is changing, and so is the way that search engines filter results. Search engine algorithms are growing more and more complex, and giving more prominence to geographic data and verification. A local business listing is the best way for businesses to capitalize on these changes, attracting new customers and ultimately generating more revenue.
"Having an accurate and optimized local listing can be an enormous benefit to any type of business," said Marc Pearl, Chief Executive Officer of BBI. "It's the most significant way to gain a real foothold in the big search engines' results, but it's a tricky process. BBI's local business listing service creates ideal, accurate listings targeted toward certain keywords, and continues to update and maintain these listings so that they stay fresh in the eyes of consumers and search engines."
Business Breakthroughs International offers a wide variety of products and services to help businesses to grow and prosper in any industry or economic climate.
Connect with Business Breakthroughs International via LinkedIn and Facebook.