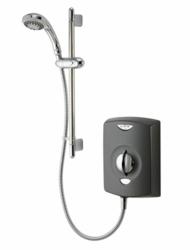 "We developed this graphite range of electric showers following increased demand from our customer base. The new graphite gse range improves our electric product offering significantly"
Stuart Newbury, Gainsborough Showers
(PRWEB UK) 28 March 2013
Electric showers have become increasingly popular in the UK in recent years due to their wide range of benefits. Gainsborough has recognised the growing demand of electric showers amongst its customers and has expanded its offering to include graphite electric showers in addition to white and chrome to meet this demand.
Electric showers are suitable for many different types of households. Larger families or busy homes in particular will find that electric showers are ideal as they place no strain on the hot water system. They heat cold mains-fed water instantaneously via the shower's internal heating element. This means that hot water is available instantly at any time of day, with no waiting around for the hot water cylinder to heat up, which is often a common complaint amongst larger households. For this reason, electric showers are also a sensible idea for en-suite bathrooms or as a second shower, as the hot water system will have no demands put on it when the second shower is in use.
Electric showers, particularly 8.5kW models, can be an economical choice for many families, as they only heat the water that is used in each shower, making them energy efficient. This means that no hot water is left unused, as can sometimes happen in hot water cylinders. They come in a range of different power ratings to suit the needs of the household.
In addition, because an electric shower has no reliance on the household boiler, therefore should the boiler fail or have a problem, you will still be able to have a hot shower. Electric showers can be fitted in almost any household, regardless of the water system, because they are mains fed.
The development of electric showers has come a long way since the 'white box on the wall' era. Gainsborough's new graphite-coloured gse range is a perfect illustration of the different type of designs and styles now available. The attractive charcoal colour of the gse range will create a striking contrast in neutral themed bathrooms, and work well in either contemporary or more traditional styles of bathroom.
Stuart Newbury, Gainsborough's Product Manager said:
"We developed this graphite range of electric showers following increased demand from our customer base. In addition to our gloss white se range, and satin chrome cse showers, the new graphite gse range improves our electric product offering significantly"
The gse showers are supplied with fully chromed accessories – including a height adjustable shower rail, shower head and shower hose. A single spray shower head is included with the 8.5kW and 9.5kW models, whereas the 10.5kW models are supplied with an upgraded three spray shower head. All three models have a selection of safety features, including over temperature protection and phased shut down, both of which protect users from dangerously high water temperatures, providing peace of mind. For further reassurance, the entire gse range comes with a one year manufacturer guarantee as standard.
Many customers with older Gainsborough electric showers will find that the gse range is a suitable replacement. The company has listed all relevant shower models and necessary information on their website, on their replacement showers page.
The showers are available online from http://www.gainsboroughshowers.co.uk and prices start from £122 for the 8.5 gse, and all include free delivery. The company has plans to add the showers to third party shopping sites, including Amazon and eBay, in the near future.
About Gainsborough Showers
Gainsborough Showers is a well-respected UK shower manufacturer, having been established for over forty years. The company supplies electric, mixer and digital showers to the UK domestic market and currently has 22 different models available to buy on their website, all with free next working day delivery. As well as new showers, the company also supplies a range of spare parts for over 35 Gainsborough shower models. Gainsborough's mission is to make buying a shower online quick, easy and straightforward.