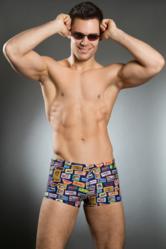 A man might wear only plain white or black boxers, but on the beach he wants something more lively and fun
(PRWEB UK) 28 March 2013
The end of the first quarter trading coincides with an early Easter this year - but men's swimwear has already been selling fast, according to DGU partner Jane Garner.
"Swimwear sales usually pick up in February, but this year there has been demand right from the start of the year. With the Easter holiday so early too, swimmers are doing really well weeks before the sales rush started for the holiday season in 2012," she explains.
One factor in boosting sales, she believes, is the quality of the offer this year: "Men's swimwear is really hot. Even plain colours are more vibrant, or given extra interest with texture or perhaps a contrasting waistband. Scarlet and bright royal blue are dominant, as are endless variations on stripes - horizontal, vertical, candy coloured or more subtle tones."
Deadgoodundies.com stocks mostly men's underwear brands, plus swimwear ranges from its best selling collections. Men's swim shorts and swim briefs are popular buys all year round as men buy just in time for a holiday or when they need new swimmers for laps in the pool. New designs are arriving daily as most new collections don't start arriving until late February.
Brands such as Bruno Banani and HOM offer high fashion designs. HOM's prints include holiday destination stamps - like those people used to stick on their suitcase - and surfers with their boards. Bruno Banani's impressive array features retro florals, a beach hut print, great black-and-white combinations, and a quirky reptilian look depicting a snake eating an apple.
Jane Garner says men are often more willing to enjoy colour in their swimwear even when they are traditionalists with underwear: "A man might wear only plain white or black boxers, but on the beach he wants something more lively and fun. This year's prints are sharp, interesting and some really do raise a smile."
Company Information
Deadgoodundies is an online only retailer stocking the best in designer men's underwear and swimwear from all over the world including: (in alphabetical order) Big Boys, Body Art, Bruno Banani, Bum-Chums, Clever Moda, Doreanse, Ergowear, Gigo, Gregg Homme, HOM, James Tudor, Jockey, Joe Snyder, MaleBasics, MANstore, Mey Bodywear, Mundo Unico, Nils Bohner, Obviously For Men, Olaf Benz, Pikante, PUMA, Skiny, Sloggi, Solar TanThru and Zoggs. DGU stocks everything from thongs and strings to briefs, hipsters and shorts as well as selected loungewear, socks, T-shirts and more from their best selling brands.
DGU are incredibly media friendly and always have high res images on hand for fashion pages and samples for photo shoots as well as expert comment and market insight from partners Adam and Jane.
For more information contact DGU PR Jane on 01743 271615 (international +44 1743 271615) or email pr(at)deadgoodundies(dot)com.