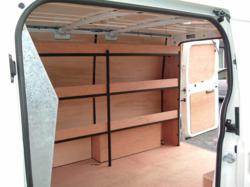 Made from reinforced anodised aluminium, these roof racks for vans are fully crash tested to ECE Reg 17 and enable safer and easier loading and unloading of ladders and other tools from the vehicle
Bolton, Lancashire (PRWEB) March 28, 2013
Based on the Raikes Lane Industrial estate in Bolton, van racking suppliers Vanliners are pleased to announce the launch of an innovative range of new product lines for summer 2013.
Established over fifteen years ago, Vanliners was built on a strong foundation of long-term customer partnerships based on the highest standards of quality and exceptional service.
The company enjoyed rapid growth quickly and became the market leader in commercial vehicle accessories, offering a range of vehicle and van racking and ply lining solutions and bespoke vehicle conversions.
Shaun Taylor is a sales manager at ply lining specialists, Vanliners. "Our growing number of customers is varied - we regularly supply start-up enterprises and one-man business right through to blue-chip organisations - which I think speaks volumes about the quality products and services we have on offer. We are constantly updating our ranges with high quality product to cope with customer demand."
This latest range of products includes Vanguard Ford Transit and Rhino roof racks.
"Made from reinforced anodised aluminium, these roof racks for vans are fully crash tested to ECE Reg 17 and enable safer and easier loading and unloading of ladders and other tools from the vehicle."
Based in Exeter, Vanguard has been a market leader with over 30 years industry experience supplying quality commercial vehicle kits and ply lining for vans to companies around the country.
"Vanguard employs a dedicated team of designers and engineers," says van flooring supplier, Shaun Taylor. "This ensures that all of their products maintain constantly high quality standards as their designs evolve with vehicle models and upgrades."
Rhino are a Deeside based company who manufacture roof bars, racks and accessories ideal for start-up enterprises and small companies where perhaps there's only one vehicle in use.
"Rhino can supply us with the quality, durable and most importantly bespoke products we need to cater to our customers' needs," says Shaun Taylor, sales manager. "Rhino provides everything we need and at the right price - which I'm sure our customers will appreciate us for!"
Other products that Vanliners have included in their new product range include new ply line kits for the Transit Custom van and the new Mercedes Citan.
"Ply lining your van not only protects your cargo but also improves the resale value of your van," explains Shaun Taylor. "All of our van ply lining kits are cut by us at our depot, using CNC machinery to produce the highest quality van ply lining kits possible."
Vanliners have included Vanguard Tube carriers and Rhino ladder storage in their range of new lines, providing a wider variety of commercial van accessories to cope with a wide range of industry needs.
"We can equip vans for lots of different sectors; ensuring that their vehicles can cope with their daily demands whilst transporting cargo and equipment safely," says Shaun Taylor.
"With many years of experience supplying van bulkheads and fitting van conversions, we can confidently provide fleet solutions to wide range of industries within all kinds of budget or time constraints."
"The Vanliners principle of becoming the first-choice supplier to fully satisfy customer requirements has enabled us to offer a range of vehicle and van ply lining solutions, and bespoke vehicle conversions to a growing number of customers including blue-chip organisations right through to start-ups and one man businesses."
"Customer satisfaction is the key to our success," says Shaun Taylor, supplier of van security systems. We are proud of our ability to deliver a wide range of complete commercial vehicle solutions on time and on budget to the highest standards."
"We are extremely proud of the team spirit here at Vanliners, and we extend this approach to our relationships with clients. Excellent customer service has been rewarded by exceptional customer loyalty. Customer satisfaction is the key to our success and we are proud of our ability to deliver a wide range of complete commercial vehicle solutions on time and on budget to the highest standards. We're pleased to become official suppliers of such high quality products like Rhino and Vanguard."
Press release written by Bolton Website Design company Vizcom