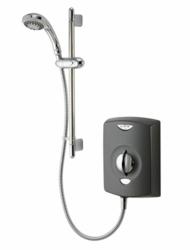 We know that our customers like their bathrooms to be stylish. No longer is the bathroom the 'forgotten' room of the home.
Stuart Newbury, Gainsborough Showers
(PRWEB UK) 29 March 2013
The new range of graphite-coloured showers, the company says, would look striking in a variety of different bathroom styles – from contemporary to more traditional. The attractive charcoal showers are available in a choice of three power ratings: 8.5kW, 9.5kW and 10.5kW, so there is a choice to suit most households.
Stuart Newbury, Gainsborough's Product Manager said:
"We know that our customers like their bathrooms to be stylish. No longer is the bathroom the 'forgotten' room of the home. We have developed this graphite range of electric showers to meet increasing customer demand for different styles and designs."
The dark grey colour of the new electric shower range would work well with a simple, natural style of bathroom, which is one of the main trends for bathroom design in 2013. Simple lines, natural materials, such as woods and stones, as well as usable bathroom space to recreate a spa-like feel are all big bathroom trends for 2013, and all of these would be complemented by a classic-looking graphite shower. The use of natural stone in bathrooms is set to be a fashionable style in 2013, and the use of graphite colour would be a beautiful complementing feature.
The gse range is available to buy online on Gainsborough's website http://www.gainsboroughshowers.co.uk and prices start from £122 for the 8.5 gse electric shower. The 9.5 gse electric shower is priced at £132, and those wishing to upgrade to the 10.5 gse model will pay £149. Free delivery for UK mainland customers is included for all purchases on the company's website.
The new Gainsborough electric range boasts a variety of different features to benefit users. A simple one touch start/stop control and one dial controlling temperature and flow ensure that the showers are easy to operate for both young and old users, while the company's advanced showering technology means that no other buttons or dials are required. This is because the shower automatically adjusts for changes in the mains water pressure supply and therefore provides optimum power throughout the year. Safety features include an over temperature protection system which protects the user from selecting dangerously high temperatures, and a phased shutdown safety feature, which flushes residual hot water from the shower once it has been switched off. This not only protects the next user but also reduces limescale around the heating element, prolonging the life of the shower.
About Gainsborough Showers
Gainsborough Showers is a well-respected UK shower manufacturer, having been established for over forty years. The company supplies electric, mixer and digital showers to the UK domestic market and currently has 22 different models available to buy on their website, all with free next working day delivery. As well as new showers, the company also supplies a range of spare parts for over 35 Gainsborough shower models. Gainsborough's mission is to make buying a shower online quick, easy and straightforward.