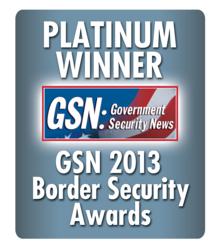 Phoenix, AZ (PRWEB) March 28, 2013
Government Security News has announced the Winners -- including Vidisco Ltd. -- in its Border Security Awards program. Awards were formally announced and handed out at the Border Security Expo, which took place in Phoenix, AZ, on March 12-13, 2013.
In the Explosives/ID/Contraband Detection category, GSN identified Vidisco Ltd.as a Platinum Winner.
The winners were selected by a panel of judges led by Chuck Brooks, who earned an MA in International Relations from the University of Chicago, was an Adjunct Professor at Johns Hopkins University, was the first Director of Legislative Affairs for the Science and Technology Directorate of the Department of Homeland Security and was a defense and foreign policy advisor to the late Senator Arlen Spector.
"We received an impressive collection of entries from large and small companies involved in border security," Goodwin said. "We're now pleased to unveil our list of honored companies and government agencies."
Edward Tyler, Publisher of GSN, thanked Telephonics Corp. for serving as the principal sponsor of this inaugural edition of GSN's border security awards program.
Vidisco Ltd. is a leading designer and manufacturer of state-of-the-art portable X-ray inspection systems. For a quarter of a century Vidisco has been revolutionizing the X-ray industry and continues to do so with leading products like the truly portable flat panel based digital X-ray systems. Adar Yiron, Vidisco's VP of Sales and Marketing further explains "Vidisco creates and manufactures portable DR systems with the safety of the operator as the number one motive. We are very proud of the positive responses we have received from operators in the field throughout the years."