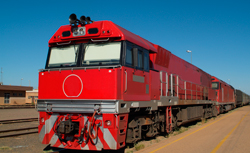 London (PRWEB UK) 29 March 2013
OzAdventures – experts in Australian and New Zealand travel starts offering exclusive Australia rail passes which are made affordable by a choice of excellent rail routes. Available only in the UK, these three or six months long passes can be used on any one of Australia's rail networks. The 'Backtracker Rail Pass', for instance, is available from as little as £170 per person, and caters for adventure travel to more than 360 destinations in and around Victoria and New South Wales via XPLORER rail, XPT, CountryLink and a variety of connecting coach services.
Oz Adventures not only have access exclusive rail passes, but also special flight deals from all major airlines - meaning Australia flights are available from as little as £689. Travellers can be assured of getting the best connections/prices for flights to Australia with stopovers, (or flights to New Zealand with stopovers). Oz Adventures also offer an exciting range of interesting Australia gap year/adventure travel options to boot.
Adventure tours include, for instance, the 10-day 'Epic Outback' tour - a self-drive tour taking travellers from Darwin to Broome, exploring the undiscovered and remote north and western Australian Kimberley region. The price of this tour, starting from £1353, includes hire of a 4WD vehicle and accommodation along the pre-planned route.
Other self-drive Oz travel options include tours along the Great Ocean Road, the stunning scenery of the Red Centre Adventure or exploring ancient rainforests, deserted beaches and magnificent outback scenery on the Queensland discovery tour. All Australian adventure tours include vehicle hire, accommodation and pre-planned routes (terms and conditions apply).
For backpacking students spending their gap year in Australia, Greyhound Bus Australia offers two excellent choices. The 'Point to Point Pass' - starting at £88 per person - can be used to hop on and off buses for up to 90 days, offering plenty of opportunities to explore the country between the starting and end points of the chosen direction. The 'Kilometre Pass' - available from £120 per person is distance based and can be used to travel anywhere for up to 12 months.
Another option of travelling around Australia with OzAdventures is to explore stellar Australian landmarks via Australia Motorhomes. Options start with funky Australia campervans like the Alpha Spaceship, which are available from £38 per day, sleeping two people and including air conditioning, a CD/DVD/MP3 player (complete with TV screen) and more.
In short, OzAdventures provide excellent choices for your gap year Australia travel to and around any chosen region at prices suitable for any budget.