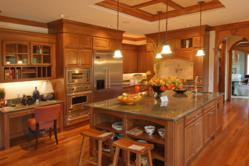 (PRWEB) March 29, 2013
Online publisher, Furniture Fashion is following the spring trends in 2013 related to kitchen remodeling. Thus far there is great promise in new ideas that are coming to market. Interior designers are pushing boundaries to create more work space in the kitchen. The most prevalent trend is the use of kitchen islands in the overall kitchen design. One reason for this is the improvement in the real estate markets which has created a boom in remodeling projects. Many cities are reporting record home sales. Home inventories are at a ten year low as it is now a "sellers market". Since the market has improved, home buyers are acting more quickly on purchasing decisions with immediate plans for remodeling. The kitchen is the most remodeled room in the house.
Furniture Fashion has compiled an image gallery on the use of kitchen islands in 2013 that can be accessed at: Kitchen Island Designs and Ideas
Older homes built from 1960-2000 normally don't have a kitchen island as that was not a popular trend back then. Kitchen designs coming out this season almost always have a kitchen island if there is space permitting. Furniture Fashion interviewed interior designers and families to find out their reasons for creating islands in the kitchen. The most common response was the desire to create counter space away from attached walls and cabinets. This allows for more freedom of movement. Also, when cooking it offers the cook more space to have various dishes and ingredients as the meal is being prepared.
Another reason cited was to create another casual space for seating. Barstools can be placed at the island for a quick meal or snack while not using the breakfast area or formal dining room. This was especially convenient for families with children that want to keep children away from more formal dining areas.
Having a space to entertain guests was the third most popular reason provided by the interviewed designers and families. The kitchen is a gathering place during holidays, parties and family events. A kitchen island creates more space and allows for a natural flow of traffic thereby making it easier to accommodate more people in the kitchen.
Follow Furniture Fashion on Google+
Follow Furniture Fashion on Facebook