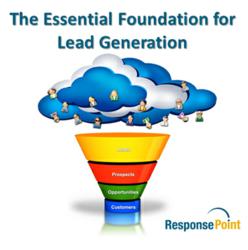 With limited experience and resources, SMBs often invest in marketing promotional programs without first implementing the core sales and marketing processes necessary to produce quality leads
Raleigh, NC (PRWEB) March 31, 2013
ResponsePoint (http://www.ResponsePoint.com), a Raleigh, North Carolina based marketing agency specializing in Business-to-Business (B2B) lead generation solutions has announced the second in a series of on-demand marketing training modules geared toward the needs of small and medium size business owners and their marketing teams. This marketing training module entitled "The Essential Foundation for B2B Lead Generation" highlights the core sales and marketing processes required to support a sustainable lead generation program that is capable of producing higher quality leads more consistently and affordably over time.
"Small and medium size businesses face unique challenges in regards to B2B lead generation because of their size," says Brian Gossett, CEO of ResponsePoint. "With limited experience and resources, they often invest in marketing promotional programs without first implementing the core sales and marketing processes necessary to ensure leads get qualified, managed and handled properly. Without these processes in place, even the most well thought out marketing program will produce limited results."
This marketing training module will discuss these sales and marketing processes and provide a blueprint for how small and medium sized businesses can affordably build and manage them using best practices and technologies proven effective by ResponsePoint's Fortunate 100 clients. Some of the areas of focus for this module will include:

Customer centric value propositions
Lead acquisition entry points
Lead qualification and sales acceleration
Lead handling, follow-up and nurturing
Sustainability and long-term management
Prospect profiling and target audience definition
ResponsePoint's on-demand marketing training modules are developed primarily for small and medium size businesses and offered free of charge. As an added bonus, ResponsePoint also offers prospects assessments of their marketing programs to help pinpoint areas of need, eliminate waste and improve efficiency.
For more information about ResponsePoint's marketing training modules or the complementary consultation offer, visit their website at http://www.responsepoint.com or call 800-990-0725.
About ResponsePoint
ResponsePoint builds efficient and effective B2B lead generation solutions. Our process centered approach to lead generation improves your ability to produce better quality leads, consistently over time. This starts with developing a strategy that aligns your objectives with the right target audience and the perfect mix of marketing communications. We then use our experience to apply proven marketing processes and technologies that simplify program management, measurement and sustainability for long after our initial engagement is over. ResponsePoint's headquarters is just outside the Research Triangle Park area of North Carolina.