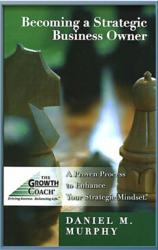 CINCINNATI, OH (PRWEB) March 28, 2013
The Growth Coach Franchise CEO and Founder, Daniel Murphy, knows what it's like to own and run a business – the hours, the finances, the worries, the challenges and the commitment it takes to turn an idea into a success story. When he started coaching in 1992, it was with the mission of helping business owners and leaders in his local community understand how to strengthen a business while balancing work and life.
After 11 years of helping hundreds of business owners achieve greater success and balance, Murphy sold his first Growth Coach franchise in May 2003 and decided that writing a book would help spread the word about his proven coaching strategies throughout North America faster while serving as a resource for future Growth Coaches. That book is now available online for free.
"I truly wanted to help small business owners, my heroes, and I knew putting something together – a guide or a business coaching book – could help business owners, executives, and managers located beyond the Cincinnati region. We're in more than 140 markets now, but that wasn't always the case and I wanted to reach out and help as many people as possible, wherever they were located", he said.
The book, "Becoming a Strategic Business Owner," was published in early 2004 and is Murphy's way of making sure overworked and overwhelmed business people can find some guidance, help and hope even if a Growth Coach isn't nearby. The book walks readers through a series of practical exercises that can help improve the owner, their business, and their personal life including facing reality about what's working and what's not, seeing the big picture, creating action plans, becoming a stronger leader, mastering sales and market, developing business plans and remembering to enjoy the journey to start.
"I want those business owners to know that there are real strategies they can put into place that will help them run the business instead of the business running them. It does take a lot of work to run a small business, but you don't have to do it alone and there are better, smarter ways," he said.
"Becoming a Strategic Business Owner" also offers a glimpse at what Growth Coach can offer as the only pure business and sales coaching franchise with the sole purpose of helping drive success and balance the lives of owners and their management and sales teams through group workshops and one-to-one coaching. Clients include business and franchise owners, self-employed professionals, executives, sales teams, management teams and Entrepreneur Magazine recently ranked The Growth Coach as the #1 Business Coaching franchise in the country.
Lawyer Shari Elliott, who owns her own law firm in Ontario, found herself working with local Growth Coach Paul Beevor after finding that Murphy's book described exactly what she was experiencing as a business owner and manager.
"After reading the book, I felt it was talking about me so closely in many of the stories, that I could not afford not to give their coaching process a try," Elliott said. "The main theme in many of the strategies is to think and act like a boss or owner, not an employee. I am way too hands-on and it's much more profitable when I am free to promote my business. I think the book would be very helpful to anyone who owns their own business and is looking for more success and personal balance."
Working with Beevor has held Elliott accountable for making the changes she's wanted to improve her business and as such, it's been much more impactful than reading the book alone. Like all Growth Coaches, Beevor's coaching and accountability services included a money-back guarantee.
"Starting with the book is definitely valuable – it stresses the importance of slowing down, reflecting and planning. Many of us who start a business are so focused on a particular vision that we don't think about how to run the business. We find ourselves working in too many boxes on too many things, but you have to step back and look at the business overall to make improvements," Beevor said.
Although the book has seen a couple of updates and edits since the first release, Murphy said the guidance offered is as relevant today as it was when he started coaching more than 20 years ago.
"What we do at The Growth Coach is proven to work. The book is just one of the resources we offer to the business community and we hope anyone struggling to run their business will give it a shot," he said.
"Becoming a Strategic Business Owner" is available as a free hard copy or as a free e-book online at http://www.TheGrowthCoach.com. Shipping and handling for the hard copy is just $4.95.
Find more information about The Growth Coach, including how to open your own franchise, online at http://www.TheGrowthCoach.com.