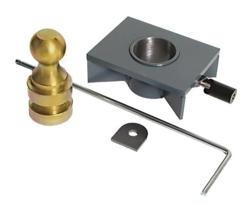 "The manufacturer has spent a lot of engineering time devoted to ease of installation,"
~Bernard Dick
Shell Knob, MS (PRWEB) March 28, 2013
Hitches & Couplers Inc., a leader in hitch and coupler related towing project, is pleased to embark on its eighth year of service with the finest offerings in gooseneck hitches. The company offers two lines of gooseneck hitches: PopUp and FlipOver.
"Both are strong, proven products that we've had for a number of years," says Bernard Dick, the president of Hitches & Couplers.
The FlipOver line of hitches are traditional in mechanism and structure. Hitches & Couplers offers a wide variety of FlipOver gooseneck hitch products, including couplers, extenders and related components.
The PopUp line of hitches, while just as reliable and strong as the FlipOver line, are retractable in mechanism, Dick says. These gooseneck hitches, as well as their related extenders and couplers, are also part of the Hitches & Couplers family of products.
No matter which line the customer selects, quality and convenience come standard. Both the FlipOver and PopUp lines offer speedy installation and use.
"The manufacturer has spent a lot of engineering time devoted to ease of installation," Dick says about the company's choice to carry these gooseneck hitches. "Installation time means a lot to both the dealer and the customer."
Another feature that sets Hitches & Couplers apart is its commitment to same-day shipping, Dick says.
"From day one, we wanted to make same-day shipping standard and offer first-line products produced by quality manufacturers," Dick adds.
Furthermore, freight and shipping charges are always free from Hitches & Couplers to customers across the United States.
"It's always been a standard part of our service," Dick says. "The customer has no hidden surprises at checkout."
Founded in 2006, Missouri-based Hitches & Couplers Inc. is a registered PopUp Towing Products dealer. The company specializes in only the highest quality hitches (including gooseneck hitches), couplers, extenders, towing products and related equipment.