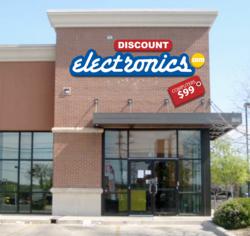 They will have the same great prices as our bigger stores, but will be easier to get in and out of.
Austin, Texas (PRWEB) March 29, 2013
It's been a full five months since Discount Electronics opened the doors to its Cedar Park store. On April 6, 2013, over 100 miles away, the company will open store number nine at Culebra Road and Tezel Road in San Antonio. This is the first expansion in San Antonio since Discount Electronics bought the PC Outlet brand in 2011.
"These new stores will be smaller and more efficient," said CEO Rick Culleton. "Most of the stores we open from here forward will be convenience-type stores. They will have the same great prices as our bigger stores but will be easier to get in and get out." Culleton also added that all of these stores will have complete repair centers.
Discount Electronics has plans to open three more stores in San Antonio this year and relocate two of its existing stores. The store opening on April 6th will result in five new jobs in San Antonio. By the end of 2013, the company will employ 22 more people in San Antonio than at the start of the year.
This location at 9355 Culebra Road, Suite 100, San Antonio, 78251 was discovered with the help of Robert Grant of R.P. Grant Company, Inc. A company spokesperson said that they plan to use R.P. Grant's services to secure the rest of the San Antonio locations.
Discount Electronics is wholly and privately owned by First E-Commerce, Inc., a Texas Corporation. Rick Culleton founded Discount Electronics in 1997. The company employs 125 people in Central Texas.