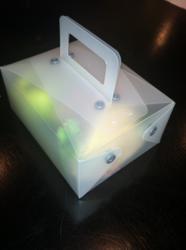 Efforts nationally to ban Styrofoam range from local ordinances to local citizen efforts.
St. Petersburg, FL (PRWEB) March 29, 2013
Platos Table announces a grassroots community campaign to eliminate single-use food containers in restaurants in St. Petersburg, FL, targeting polystyrene, brand name Styrofoam. Over 20 local restaurants and food markets have joined this unique campaign by posting a decal in their storefront windows designating them as Reuser sites that will support diners using their own containers for take-out. In return for saving the restaurant the cost of the container and helping the restaurant go green, the diner will receive some incentive, like a reduced meal cost or free drink. The restaurants are listed and updated on the website created especially for this campaign, http://www.reusers.com. Diners are encouraged to check out the list for Reuser sites and incentives, prior to dining.
Platos Table LLC, a women-owned small business in St. Petersburg, FL, the originator of this local campaign, is making inroads in eliminating take-out food container waste, especially polystyrene foam, sometimes sold under the brand name Styrofoam. "The appeal of single-use containers is convenience and low cost; the drawbacks are huge," says Sheree Graves, one of the partners in Platos Table. "In the U.S., consumers are renowned single-users. The fact is that packaging makes up 30% of the trash in our landfills; that 30% is comprised of polystyrene foam, plastic and paper." The EPA on its website "encourages practices that reduce the amount of waste needing to be disposed of, especially single-use packaging. The most effective way to reduce waste is to not create it in the first place."
Graves and her business partner, Lela Garnett, decided in 2011, to invent a convenient container that could be used over and over. After looking at many materials, their choice was BPA-free polypropylene food grade plastic. Garnett says, "The unique design folds flat for storage and pops together; it is important that using the container (called Platos) is convenient, because it is replacing convenient single-use containers. This is a behavior change for the diner and a process change for the restaurant; neither is easy or cost-free."
Over 100 cities and counties have banned polystyrene containers. This year in February, NY Mayor Bloomberg announced in his weekly city address that he was going to push to ban Styrofoam food packaging. Some of the oldest polystyrene bans in restaurants include Portland, OR, Berkley, CA and Carmel, CA, all dating the late eighties. Philadelphia and Boston are considering ordinances banning the foam products and Chicago has a non-profit effort called "No Foam Chicago."
The effort in St. Petersburg does not involve an ordinance or a complete ban. It is a volunteer effort that involves individuals and businesses cooperating. The St. Petersburg, FL campaign will kick off with an event on April 3, at which the initial list of local restaurant and market participants will be unveiled.
About the Company
Platos Table LLC, a private for-profit St. Petersburg, FL, is focused on designing implementing ideas for eliminating waste. Platos sells a reusable container designed to replace single-use food containers.