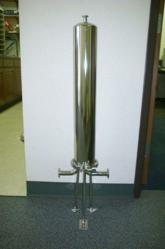 Anthony, KS (PRWEB) March 29, 2013
Celco (Central Electropolishing Company, Inc.) recently announced acquisition of electropolishing equipment designed for the medical and pharmaceutical industry.
Currently, many medical and pharmaceutical devices and equipment are made of metals like stainless steel. The industry maintains established guidelines for its surface finish requirements, calling for the highest standard in surface finishing. Stainless steel finishing through electropolishing has been widely recognized as an ideal solution for this industry's critical devices, as patients can be harmed as a result of contaminations.
With its newest electropolishing equipment, Celco is pleased to be able to offer this critical stainless steel finishing process to the medical and pharmaceutical industry. Because purity is crucial, the industry has identified the impact and significance of surface finish as a solution for high purity systems like pharmaceutical equipment.
Surface finish is critical to producing and maintaining sterile equipment and systems. The proper surface finish requirements will reduce product adhesion and improve corrosion resistance, both of which reduce downtime and lower costs.
Benefits of this stainless steel finishing include metal removal, corner rounding, edge sharpening, deburring and removal of effected zones and micro-cracks.
Upon completion, electropolishing results in an enhanced, smoother, bright, shiny surface that's resistant to corrosion. Furthermore, it's an easy economical choice for large quantities of small parts.
This acquisition builds on Celco's rich heritage of high quality electropolishing and high-quality customer service. Electropolishing is the precisely controlled electrolytic removal of metal using an electro-chemical process. This process mechanically restructures the surface of the metal. By expelling electrons from the exposed surface and causing a smooth reaction, iron is removed and the presence of chromium and nickel is enhanced.
Founded in 1986 by Ken Bellesine, Celco provides stainless steel finishing as well as aluminum electropolishing, passivating, and oxygen cleaning and water treatment services. The Kansas-based company is committed to suppling the highest quality service from its employees and subcontractors at competitive prices in the most expeditious manner possible.