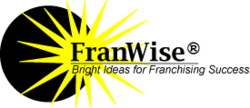 Hireology's unique tool will provide franchise systems with the technology they need to hire the right people. -- Mary Ann O'Connell, President of FranWise
Chicago, Ill (PRWEB) March 28, 2013
The leading selection management platform, Hireology, announced today that they have partnered with franchise services company, FranWise. Hireology's web-based Selection Manager™ will be offered as a value added product to FranWise's current clientele.
"Hireology's unique tool will provide franchise systems with the technology they need to hire the right people," said Mary Ann O'Connell, the President of FranWise. "Franchisors can confidently provide their franchisees with an all encompassing solution to hiring."
FranWise's clients who have implemented Hieology will have access to their proprietary Selection Manager™ software. The award-winning platform includes online applicant management, job profiling, skills testing, behavioral interviews and an entire suite of verification services, including background and credit checks.
"FranWise's consultation and training manuals are well-known in the franchise industry and we are pleased to be included as one of the resources they provide," said Kevin Baumgart, Hireology's Director of Business Development. "We are looking forward to working with the FranWise team."
FranWise has more than 30 years of experience providing services and resources for the franchise industry.
Hireology is currently in attendance at the 2013 Multi-Unit Franchising Conference in Las Vegas, Nevada.
About Hireology
Hireology's award-winning selection management system helps companies organize their hiring process and leverage data to make better hiring decisions. Franchise systems, banks and financial institutions, healthcare systems, dealer networks, and other multi-site operators use Hireology's web-based Selection Manager™ to deliver consistent and repeatable hiring decisions in the field - leading to better hiring decisions, lower turnover, and increased profitability per location. For more information, please visit http://www.Hireology.com.
About FranWise®
At FranWise® we have the wisdom that 30 years of franchising experience can yield. Our team of professionals and specialists offers sound advice based on experience and education. Let our experience work for you.Today's franchisees are sophisticated and discerning buyers—they want to align with a company that can advance and support them as they reach their goals. We can show you how to do that effectively, efficiently and ethically.Consultation, feasibility studies, strategic planning, customized system design, manuals and training—the building blocks of a solid franchise foundation.