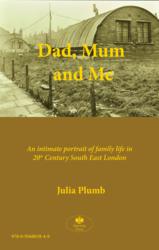 Dad would buy a pint of winkles for Sunday tea. We would all have some winkles on a plate and a needle to prise them out of their shells. These were sprinkled with vinegar and pepper and together with brown bread and butter Sunday tea was a treat.
London, England (PRWEB UK) 30 March 2013
Dad, Mum and Me by Julia Plumb
ISBN: 978-0-9568038-4-9
Pages: 45pp
Publisher: Dynasty Press Ltd
Kindle Price: £5.14 and free to borrow on Kindle Prime
A charming and intimate story of family life in the South East of London. Dad, Mum and Me is set in Bermondsey and starts towards the end of the Victorian era, which was a very colourful time for South East London.
Julia recalls her father's life from his birth in 1912 until 1939, when the second world war broke out. Julia's mother was born into a rural community in Hungary and the story includes strange tales from the village. She left Hungary in the Spring of 1939, coming to England for adventure and to learn the language. When war broke out she was unable to return home.
Julia was born in 1942 and the story tells of how the family managed in war time. In 1948 her mother took Julia and her brother back to Hungary to visit her relatives, a dangerous undertaking only three years after the war had ended. The book recalls the visit.
The book tells of the family moving into a new home after the war and how Julia had fun playing on bombed out ruins. This is a memoir depicting a world that has now disappeared forever, when children swam in the River Thames and ate winkles as a treat for their Sunday tea.
Dad Mum and Me is available on Amazon and Amazon Prime members can borrow this book at no extra cost from their Kindle devices.
For more information about Dad, Mum and Me please contact Roger Day at: executive(at)dynastypress(dot)co(dot)uk or call 0207 735 0506
About Dynasty Press
Dynasty Press, founded in 2008, is a boutique Publishing House specializing in works connected to royalty, dynasties and people of influence. Committed to the freedom of the press to allow authentic voices and important stories to be made available to the public, Dynasty Press boldly publishes titles which reveal and analyse the lives of figures who are often, but not always, placed in the upper echelons of international society. Recent Dynasty titles include the New York Times Best Seller The Untold Life of Queen Elizabeth the Queen Mother (jointly with St. Martin's Press) by Lady Colin Campbell, American Alice by Richard Freeborn, Dangerous Score by Mike Bearcroft (published to benefit The Hillsborough Family Support Group) and Brighton Babylon by Peter Jarrette. Forthcoming publications include Terry Cooper's Death by Dior. For more information please visit http://www.dynastypress.co.uk.
About Julia Plumb
In 1957 when she was fifteen Julia left school early, much to the displeasure of the headmistress, but she was eager to start work. Jobs were two a penny in those days and she was never out of work. She is now what they term a "Senior Citizen" having retired ten years ago when she moved to the wilds of East Yorkshire after having lived in Kent for most of her married life. She likes to read autobiographies which she finds absorbing. Writing "Dad Mum and Me" was a labour of love as it brought back so many memories. It is a snapshot of the past which she hopes the reader will find both informative and entertaining.