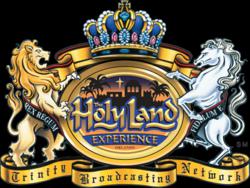 (PRWEB) March 28, 2013
About.com has published its prestigious Readers' Choice Awards for America's most popular theme parks, and Holy Land Experience, TBN's Orlando, Florida family vacation and worship destination, has won the distinction of having the nation's Best Theme Park Holidays Event for its spectacular month-long Christmas program. Holy Land Experience beat out a number of noted Christmas programs at other parks — including Busch Gardens, Dollywood, and even Disneyland — to win the distinction.
"We're thrilled to be chosen by popular vote to receive this awesome honor," said said Mike Everett, General Manager of Holy Land Experience. "Christmas has always been a very special holiday season for us, and every year we go all out with millions of festive lights, music, dramatic productions, and dynamic worship services at our 2,000-seat Church of All Nations — all to make the celebration of Christ's birth an unforgettable experience for our friends and guests."
Designed to escort visitors back in time to experience the sights, sounds, and themes of First-Century Jerusalem — along with the impacting truths of Scripture — Holy Land Experience takes on a unique atmosphere during holiday seasons like Christmas and Easter. In addition to the thrill of walking the streets of a re-created ancient City of David, guests are treated to a variety of dramas, musicals, and programs that make for a faith-filled vacation and worship experience unequaled anywhere.
Like Christmas, Easter season is a perfect time for an inspiring visit to Holy Land Experience. In addition to unique dramatic and musical productions like the acclaimed Behold the Lamb, Easter week features several screenings of Mel Gibson's classic film The Passion of the Christ, and a very special and moving Good Friday service at the Church of All Nations, led by internationally known evangelist Benny Hinn. Click Here for more information on Easter Week events.
Mike Everett noted that whether during a spectacular holiday season or on one of the park's regularly scheduled days, the Holy Land Experience is a one-of-a-kind vacation and worship destination for guests of all ages. "Every part of what we've created here at the Holy Land Experience — the sights, the sounds, and the entire atmosphere — is designed to impact the entire family," he said. "It's inspirational, educational, challenging — and unforgettable!"
More About the Holy Land Experience
The Holy Land Experience is an exclusive interactive vacation and worship destination in Orlando, Florida that combines music, drama, and historical exhibits to offer visitors a face-to-face encounter with the transforming truths of the Bible. Bringing together the sights, sounds, tastes, and feel of the Bible world, the Holy Land Experience is a uniquely educational and inspiring experience. Its structures and exhibits accurately characterize the style, architecture, and settings of ancient Jerusalem, while its lively presentations provide visitors with one-of-a-kind scriptural perspectives. Colorful and dramatic re-creations of the ministry of Jesus, unforgettable stories from both the Old and New Testaments, glorious miracles, and life-changing triumphs will move and inspire guests of all ages. For more information on the Holy Land Experience, visit http://www.holylandexperience.com.