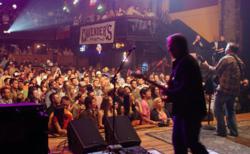 Having just worked with Shooter in the studio, it will be great to get to see him again, catch up, and play the new tunes before an energetic crowd in San Marcos,
San Marcos, Texas (PRWEB) March 29, 2013
Jason Boland and Shooter Jennings, two artists known for going against the grain of today's popular country music, join together on the Texas Music Theater stage in San Marcos on Thursday, April 11, co-headline one night of great music.
The show at the Texas Music Theater will feature new music from both artists.
Jennings newest album, "The Other Life" released March 12; the stop in San Marcos will be his first Texas appearance since the release. The record features Grammy-winning singer/songwriter Patti Griffin on the second single of the release, "Wild & Lonesome" as well as San Marcos native and award winning blues and country musician, Scott H. Biram, as a guest vocalist on "The White Trash Song."
Boland's "Dark and Dirty Mile" is set to release May 14th and was a joint production effort between Boland and Jennings. Boland and his compatriots use a wide array of hues to illustrate 11 songs of rejection and redemption, dark clouds and silver linings, all assembled in the rough-hewn manner that's earned him an ever growing fan base.
The San Marcos date is currently the only night the two will be playing together and is certain to be a celebration of the work they put in over the last year, individually and collectively.
"Having just worked with Shooter in the studio, it will be great to get to see him again, catch up, and play the new tunes before an energetic crowd in San Marcos," said Boland.
Doors for Jason Boland and the Stragglers and Shooter Jennings are at 8pm on Thursday, April 11. Jennings plays at 9:15 and Jason Boland and the Stragglers will begin at 10:30pm. Tickets start at $18 Advance General Admission. Balcony and VIP seating is available. Tickets can be purchased online at TXMusicTheater.com.
About Shooter Jennings:
Shooter Jennings, the famed rock/country guitarist, songwriter and producer is the son of Jessi Colter and the late Waylon Jennings, says the songs on the new record cover aspects of his darker side.
In early 2011, Shooter announced the creation of a new music movement called XXX, an outlet for artists who are "too country for rock, too rock for country." After playing these artists on his long-running radio program on Sirius XM's Outlaw Country, Shooter has quickly gained a reputation as one of the biggest supporters of underground and independent music in the United States and, fittingly, Billboard named him one of "the best and brightest music industry characters" for both 2011 and 2012.
About Jason Boland & the Stragglers
It's admirable when a musician gets back to his roots, there's no questioning that. But in
a lot of ways, it's even more admirable when an artist has no need to do that –having
never lost touch with those roots in the first place. Jason Boland falls squarely into the
latter category, having spent the better part of the last 15 years entrenching himself in
the so-called "red dirt" of his native state of Oklahoma and adopted home in Texas and
while spreading his musical branches to cover a remarkable amount of territory.
"Dark And Dirty Mile" is Boland's 7th studio album and the follow up to 2011's critically acclaimed Rancho Alto. Following the album's release, critics outside of Boland's wheelhouse began to take notice for the first time, including The New York Times, Wall Street Journal, Examiner and Blurt, who said,"...this is the real deal...the sort of thing that would make Waylon, Willie, Hank and Johnny nod in mutual agreement."
About the Texas Music Theater
The Texas Music Theater, located on the historic square 25 miles south of Austin and 15 miles north of New Braunfels is situated squarely at the crossroads of the Texas music scene. The theater is a world-class live music venue boasting three full bars, two levels, large projection screens, premium and VIP reserved seating options and a 30-foot wide raised stage hosts regional and national talent from all genres. The theater holds live events, weddings and acts as the studio to the filming of The Texas Music Scene featuring Ray Benson. The 71-year-old, former Plaza Theater building was renovated in 2010 with a state-of-the-art acoustic system to create a premier listening experience for music fans of all ages.