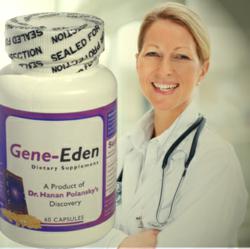 Oral Cancer Awareness Month provides us a great opportunity to double down and prove our commitment to providing the public with a scientific, all natural, safe and effective HPV remedy. - Mike Evans
Rochester, NY (PRWEB) March 31, 2013
polyDNA is a leading developer of natural HPV remedies. As the Washington Times noted, "…(HPV) is the second leading cause of oral cancer."[1] During the month of April, which has been sponsored by the Oral Cancer Foundation as Oral Cancer Awareness Month, polyDNA will be lowering the price of Gene-Eden-VIR, an all natural HPV remedy, by 50% for those who suffer from oral cancer.
When someone who suffers from HPV related oral cancer buys Gene-Eden-VIR at full price, he or she can then write in to polyDNA using the E-mail address provided on polyDNA's website. In that E-mail, that person should provide a doctor's note regarding their diagnosis. polyDNA will then refund that person 50% of the full price of his or her purchase.
Mike Evans of polyDNA said, "We've found that there is a large percentage of the public that prefer natural remedies for HPV related illnesses. We have such a remedy and we are constantly working to improve the ways that we can help the public through the use of that remedy. Since many oral cancers are the result of an HPV infection, Oral Cancer Awareness Month provides us a great opportunity to double down and prove our commitment to providing the public with a scientific, all natural, safe and effective HPV remedy."
The American Cancer Society says that over forty thousand individuals across the United States are affected by oral cancer every year. "When patients newly diagnosed with oral and oropharyngeal cancers are carefully examined, a small portion will have another cancer in a nearby area such as the larynx (voice box), the esophagus (the tube that carries food from the throat to the stomach), or the lung. Some who are cured of oral or oropharyngeal cancer will develop another cancer later in the lung, mouth, throat, or other nearby areas. For this reason, patients with oral and oropharyngeal cancer will need to have follow-up exams for the rest of their lives. They also need to avoid using tobacco and alcohol, which increase the risk for these second cancers."[2]
Because of these issues, early detection and prevention is important. The good news is that the American Cancer Society also notes, "The death rate for these cancers has been decreasing over the last 30 years."[2]
Even so, preventing an HPV infection is hard. The problem arises when the immune system is weakened and the HPV virus is able to cause a variety of symptoms depending on the strain that infects an individual. polyDNA recommends boosting the immune system against a latent HPV infection through the use of Gene-Eden-VIR.
A recent post marketing clinical study showed that Gene-Eden-VIR is effective against the latent herpes virus. By helping the body's immune system target the latent HPV virus, people also lower their risk of developing symptoms caused by various HPV strains.[3]
Gene-Eden-VIR is highly effective against the latent HPV virus, each ingredient was chosen through a scientific approach. Scientists scanned thousands of scientific and medical papers published in various medical and scientific journals around the world to identify the safest, most effective natural ingredients that target the latent form of HPV.[4]
To learn more about Gene-Eden-VIR, visit http://www.gene-eden-kill-virus.com.
References:
[1] [2 [3 [4 http://www.gene-eden-kill-virus.com/studies.php
###
polyDNA is a biotechnology company that develops dietary supplements using the unique scientific method developed by Dr. Hanan Polansky, which is based on Computer Intuition.
In addition to his unique scientific method, Dr. Polansky published the highly acclaimed scientific discovery, called Microcompetition with Foreign DNA. The discovery explains how foreign DNA fragments, and specifically, DNA of latent viruses, cause most major diseases.
polyDNA developed Gene-Eden-VIR , an antiviral natural remedy that helps the immune system kill latent viruses.