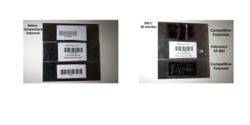 (PRWEB) March 30, 2013
Barcode tracking applications found in the metals processing industry can reach temperatures up to 600°C and identification of these metals can be difficult, expensive and time consuming if using the wrong durable label material.
For many applications, polyester labels are considered durable label solutions. For harsher applications, polyimide based labels offer greater performance. However, for ultra-high temperatures found in the metals processing industry an even more robust solution is needed. As illustrated in the images below, Polyonics aluminum based labels are far superior to polyester and polyimide materials in extreme temperature environments.
Polyonics' has developed two high temperature aluminum label materials that use a special white top coat that resists yellowing at high temperatures and is thermal transfer printable. These materials offer an acrylic adhesive system or a silicone adhesive system for the ultra-high temperature identification of coils, slabs and rolls that are identified after being removed from a furnace environment.
The XF-803 has a silicone based adhesive and is used in applications where the temperature can reach up to 600°C.
The XF-807 is based on the XF-803 top coat chemistry and has a high temperature, aggressive acrylic adhesive (-40°C to 350°C).
To receive technical information and samples of these innovative products, please contact a technical expert at +1 (603)352-1415 or email us at info(at)polyonics(dot)com.