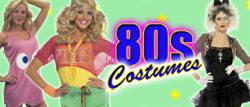 "Despite new trends and costumes appearing on a more frequent basis in this day and age, the 80's still remains a popular era. With an ever changing stance on fashion, today's society could always be liable to revert back to the trends of that generation"
(PRWEB UK) 28 March 2013
When choosing a fancy dress costume, unless sticking to a particular theme, people will tend to strive to find something memorable and stand out that will make them and their costume the topic of discussion.
Mega Fancy Dress, one of the country's leading online retailers, are predicting that costumes from the 1980's theme will be amongst the most sought after outfits for this Summer season.
Their extensive range for both Men and Ladies provide customers with high quality costumes relating to the key characters and trends of the 1980's and with the increased search traffic on Google (UK) as a result, the website is bound to gain further recognition.
Mega Fancy Dress are consistently looking to branch out and enhance their relationships with an extensive pool of customers, and offer next day delivery on their costumes. So those reminiscing about the 1980's could be back there sooner than they think.
The popularity of the theme is evident as Mega Fancy Dress are topping the Google (UK) search results for 80's fancy dress costumes across both genders. Such characters as Super Mario and Inspector Gadget are proven to be very fashionable amongst customers, whilst the queen of 80's music Madonna is also a big hit, as is the unmistakeable `Ghostbusters`. There are also hundreds of unisex outfits and accessories on offer. For example, a wide range of colourful legwarmers that were all the rage back in those days are making a re-appearance as a fashion item over 20 years later; a selection of which can be located on the website.