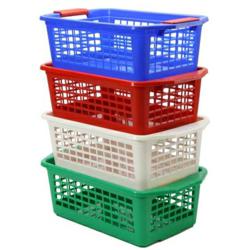 We noticed many of our orders were coming from schools, universities, and businesses so we've created product categories just for these customers.
Urbana, IA (PRWEB) March 28, 2013
Just six months after its debut, new e-commerce store JustPlasticBoxes.com is receiving rave reviews from its customers, and expanding its product line of plastic storage boxes to target new markets.
Launched in September 2012 by Clickstop, the website was developed as a spin-off of the company's home organization web store, SpaceSavers.com. It offers bulk quantities of the website's most popular plastic boxes, which allows for wholesale pricing. Free shipping is also offered every day, regardless of order size or price.
The company features a core mix of Rubbermaid plastic totes, Sterilite storage boxes, and IRIS storage containers, but has added products in new categories including office storage boxes, plastic file boxes, classroom storage bins, plastic storage baskets, and plastic stackable drawers.
"During the first few months in business, we noticed many of our orders were coming from schools, universities, and businesses," said Brandi Borkgren, one of the company's product and sales specialists. "We decided to pursue that further and create special categories of products just for these customers."
Borkgren says those additions have meant moving away from selling only boxes and also adding stackable drawers and plastic baskets to the site, which are especially popular with teachers for classroom organization. "Our Flip-N-Stack medium baskets are a great example of significant cost savings for teachers trying to organize a classroom," said Borkgren. "We're able to offer a set of 12 baskets for under $30; a quantity that would cost much more at a traditional store. And the free shipping adds another great cost savings."
The website also offers the option of purchasing additional quantities for an even lower price per set. Charts with cost savings are posted clearly on each product page.
All of the containers on the JustPlasticBoxes website are also easily searchable by size to make it simple for shoppers to choose the right products for their needs. Many of the product pages also include videos to easily show the size and depth of the container.
While the plastic boxes and baskets are packaged and sold in multiple quantity sets on the website, single quantities are always available by calling 800-736-0651. The company's central Midwest location means that shipping timeframes are just one to four days throughout the continental United States. Orders placed by 4pm CST are shipped the same day.
Borkgren says the company will continue to expand its product line as needed. "We've also recently added garage storage boxes to our category line-up and hope to continue to add to that as we head into summer and people look for solutions to garage and shed organziation."
###
About JustPlasticBoxes.com
JustPlasticBoxes is owned by Clickstop, Inc., an online retailer of niche brands in several different categories. Websites under the Clickstop company umbrella also include SpaceSavers.com, BellyBling.net, USCargoControl.com and EcoFoil.com. With strong vendor relationships from Clickstop's large e-commerce presence, JustPlasticBoxes is proud to offer high quality brand name plastic storage boxes at value prices with free delivery.