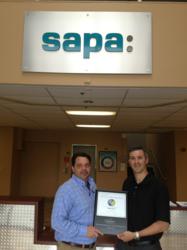 (PRWEB) March 28, 2013
Sapa Extrusions in Miami, FL recently completed a project to upgrade their existing lighting systems to reduce electricity costs and improve lighting quality. At the same time their reduced electricity usage has resulted in less greenhouse gas emissions associated with electricity production.
Southpoint Solutions worked with Sapa to develop and implement this project utilizing the patented technology of Orion Energy Systems. The existing lighting system, which consisted of over 265 inefficient high-intensity discharge (HID) light fixtures, were replaced with Orion's high-intensity fluorescent (HIF) technology.
As a result of the project, Sapa expects to cut its light-related electricity usage, and the associated costs, by more than 67 percent. An added benefit is that lower electricity usage means less fossil fuel emissions associated with electricity production. By completing this project, Sapa has indirectly reduced the amount of air pollution by 447 tons of carbon dioxide which has an equivalent impact of saving 50,127 gallons of gasoline annually or planting 367 acres of trees.
Sapa Extrusions is North America's leading producer of seamless and structural aluminum pipe and tube as well as the leader in mill standard and custom aluminum extrusions. Sapa Extrusions is part of the world's largest aluminum profile company which develops, manufactures and markets value-added aluminum profiles and solutions operating 16 strategically located facilities. Sapa is committed to sustainable, environmentally responsible production, and driven by comprehensive understanding of their customers' businesses and needs. Chris Jeffrey, Lead Engineer of Sapa, states "Sapa takes Environmental responsibility very seriously, and this was a project that allowed us to take an active step towards reducing our carbon footprint while improving the work environment for our team."
Sapa is the world leading supplier of aluminum solutions, but also wants to be recognized for being at the forefront in terms of progress towards sustainable business solutions. For more information, visit http://www.sapagroup.com.
Southpoint Solutions, LLC. is an energy services company whose mission is to help commercial and industrial companies reduce energy costs and achieve environmental objectives by developing and implementing turnkey energy efficiency projects consisting primarily of high-performance, energy-efficient lighting platforms, intelligent wireless control systems and direct renewable solar technology. For more information, visit http://www.SouthpointSolutions.com.