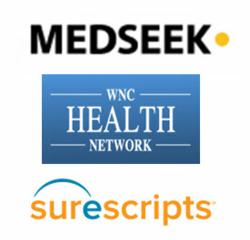 "The ability for providers to view comprehensive clinical information and more extensive medication history, real-time and at the point of care helps them make more informed, safer decisions for patients," states Brad Hawkins, MEDSEEK VP
Birmingham, Alabama (PRWEB) March 28, 2013
MEDSEEK, the healthcare industry's only strategic patient influence platform provider, will offer access to Surescripts Medication History for hospital settings within the WNC Health Network. Clinical users of WNC Data Link, a regional health information exchange in western North Carolina, will have access to Surescripts extensive medication history information, drawn from medication claims and pharmacy fill data.
The WNC Data Link platform, powered by MEDSEEK Connect, enables both hospital-based and community physicians to access a single view of a patient's medical record from a myriad of sources across seventeen WNC hospitals and Asheville's Charles George Veteran's Affairs Medical Center. The addition of Surescripts Medication History for hospital settings will further enrich continuity of care by providing timely, more complete medication history in WNC Data Link. This information enhancement can help improve coordination of care and help provide more informed decisions when diagnosing patients. "We are excited to offer our physicians and clinicians an enriched view of the patient's medical treatment," states Janice Lato, President and CEO, WNC Health Network. "Incorporating medication information into WNC Data Link will further enhance knowledge about prescribed and filled medications. "
MEDSEEK is enabling WNC Data Link users to receive Surescripts medication history information from pharmacy fill and claims data across the North Carolina region using HL7 over HTTP, an emerging standard for exchanging HL7 messages. MEDSEEK's certification means that both providers and patients can rest assured that the data is both timely and secure, delivered along standards-based channels.
"MEDSEEK and Surescripts are greatly extending healthcare provider's access to patient data," said Brad Hawkins, MEDSEEK Vice-President. "The ability for providers to view comprehensive clinical information and more extensive medication history, real-time and at the point of care helps them make more informed, safer decisions for patients."
To learn more about how your healthcare organization can offer your physicians and clinicians secure, real time access to patient health information across disparate systems, contact MEDSEEK at marketing(at)medseek(dot)com or 1.888.MEDSEEK.
About WNC Health Network
The WNC Health Network, established in 1995, is a collaboration of hospitals and other health care providers that support the delivery of cost-effective, quality health services to the Western North Carolina region. The Network's members in WNC Data Link include Angel Medical Center, Asheville Specialty Hospital, Blue Ridge Regional Hospital, CarePartners Health Services, Cherokee Indian Hospital, Medwest-Harris Hospital, Medwest-Haywood Hospital, Medwest-Swain Hospital, Highlands-Cashiers Hospital, Margaret R. Pardee Memorial Hospital, Mission Hospital, Murphy Medical Center, Park Ridge Health, Rutherford Regional Medical Center, St. Luke's Hospital, The McDowell Hospital, and Transylvania Regional Hospital.
WNC Data Link connects with Asheville's Charles George VA Medical Center through the eHealth Exchange (formerly the Nationwide Health Information Network) using the CONNECT Gateway of the NC Health Information and Communication Alliance (NCHICA). The connection allows the secure exchange of health information between the VA and 17 WNC Data Link member hospitals.
About MEDSEEK
Since 1996, MEDSEEK has focused exclusively on building software to help hospitals and health systems virtually influence prospects and patients before and after a physical encounter. Today, the MEDSEEK Influence platform integrates web, mobile, social, predictive analytics and relationship management solutions to help organizations drive profitable volume, improve individual and population health, increase patient satisfaction and create lasting health-related loyalty. Birmingham, AL-based MEDSEEK is proud to serve over 200 customers representing over 1,000 hospitals including many of the top hospital systems in the United States and Canada.
About Surescripts
The Surescripts network supports the most comprehensive ecosystem of healthcare organizations nationwide. Pharmacies, payers, pharmacy benefit managers, physicians, hospitals, health information exchanges and health technology firms rely on Surescripts to more easily and securely share health information. Guided by the principles of neutrality, transparency, physician and patient choice, open standards, collaboration and privacy, Surescripts operates the nation's largest health information network. By providing information for routine, recurring and emergency care, Surescripts is committed to saving lives, improving efficiency and reducing the cost of health care for all.