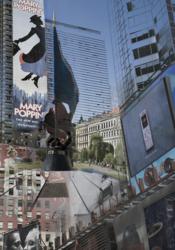 Sarasota, FL (PRWEB) March 28, 2013
Longboat Key Center for the Arts, (a division of Ringling College of Art and Design), invites you to experience and enjoy 'The Inspiring Image'. This Photographic Exhibition will be on display at the LBKCA from April 5 to May 24, 2013. An opening reception will take place on Friday, April 5 from 5:30 -7:30 pm with RSVP required. Please call 941.383.2345 or email lbkca(at)ringling(dot)edu to RSVP. The Longboat Key Center for the Arts is located at 6860 Longboat Drive S., Longboat Key, FL 34228.
In the Durante Gallery
Ringling College - Department of Photography and Digital Imaging Faculty
The work of this group represents a wide cross section of contemporary practice including fashion, interpretive landscape, portraits, staged events, documentary, video and mixed media installations. The exhibit has been curated by Thomas Carabasi, Department Head of the Photography and Digital Imaging major at RCAD.
Artists represented in the Exhibition:
Anju Kulkarni
Dee Hood
Elena De La Ville
Ken Strothman
MK Foltz
Noelle McCleaf
Sally Pettibon
Sam Davis
Thomas Carabasi
In the Cultural Media Room
Jim Johnson - Journeys in Fine Art Photography
Jim Johnson's former business life included substantial opportunities to travel internationally, facilitating an expanded and intensive exposure to other lands and cultures. Upon early retirement in 1997 he continued these extensive travels. This afforded him the opportunity to experience not only unique cultures but also areas of natural beauty throughout the world which is reflected in his photographic work.
Gallery hours: Tuesday through Saturday 11 – 5 pm
Longboat Key Center for the Arts
A division of Ringling College of Art + Design
6860 Longboat Drive S., Longboat Key, FL 34228
941.383.2345 | website: ringling.edu/lbkca | email: lbkca(at)ringling(dot)edu