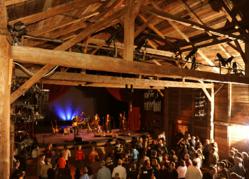 Vienna, Virginia (PRWEB) March 29, 2013
All shows are at The Barns at Wolf Trap 1635 Trap Road Vienna, VA 22182
An Evening with
Melissa Manchester
Thursday, April 18 at 8 pm
$35
Pop icon Melissa Manchester brings her powerful voice, romantic ballads, and international hits to The Barns at Wolf Trap. During the 1980s, the accomplished singer/songwriter received a GRAMMY Award for Best Female Pop Vocal Performance (1982) for her upbeat dance hit "You Should Hear How She Talks About You" and landed three songs on Billboard's Hot 100 List. Her most recent recording project, Playlist: The Very Best of Melissa Manchester (2012), combines brand new material and remastered versions of her popular singles, including "Midnight Blue" and "Don't Cry Out Loud." Manchester's career began by playing solo piano gigs at clubs across New York City. She caught her big break by pairing up with superstars Bette Midler and Barry Manilow. Manchester is also a renowned composer whose works have been recorded by Barbra Streisand, Alison Krauss, Johnny Mathis, Dusty Springfield, and Roberta Flack. As an actress, Manchester has made appearances onstage in Andrew Lloyd Weber's Song and Dance and Music Of The Night and on screen in 20th Century Fox's For The Boys (1991) with Bette Midler and NBC's Blossom (1990-1995).
Video: Melissa Manchester – Midnight Blue
Paula Cole
Friday, April 19 at 8 pm
$25
Pop-rock superstar and singer/songwriter Paula Cole returns to The Barns at Wolf Trap with new songs from her recently released album Raven—the continuation of her 2010 compilation Ithaca. The Berklee College of Music alumna entered the music scene in the early '90s when she joined Peter Gabriel's Secret World Live tour. Cole quickly landed two singles on Billboard's Hot 100 chart: "Where Have All the Cowboys Gone?" and "I Don't Want to Wait," the latter being the theme song for the hit TV show Dawson's Creek. In 1997 she was awarded a GRAMMY for Best New Artist. Over the course of her career, Cole has been nominated for seven GRAMMYs, released six solo albums, and sold over three million records. Rolling Stone exclaims, "an extraordinary songwriter with a gorgeous voice" and Entertainment Weekly calls her "…a feisty poet with a soaring voice and a funky groove."
Video: Paula Cole – Where Have All the Cowboys Gone?
Andrea Marcovicci
Saturday, April 20 at 7:30 pm
$27
Manhattan-born cabaret star Andrea Marcovicci is known for her captivating live performances, showcasing her refined voice, poised demeanor, and an extensive volume of recognizable hits. Marcovicci entertains audiences with a generation of sounds from Rodgers and Hart, Cole Porter, and World War II love songs. Her celebrated cabaret shows include performances at Algonquin Hotel's Oak Room in New York City and a guest appearance at the White House. She is the recipient of three Lifetime Achievement Awards from the Manhattan Association of Cabarets and Clubs, The Licia Albanese – Puccini Foundation, and a Bob Harrington Backstage Bistro Award. As an actress, Marcovicci made her first on screen appearance in the soap opera Love is a Many Splendored Thing (1970). She has continued her work in the film industry by appearing in TV shows and films—most recently starring in Driving By Braille (2011).
Video: Andrea Marcovicci – My Sugar is so Refined
Tickets can be purchased by calling 1(877) WOLFTRAP; or online at http://www.wolftrap.org.
For more information, call The Barns at Wolf Trap at (703) 938-2404 or our general information line at (703) 255-1900.
###