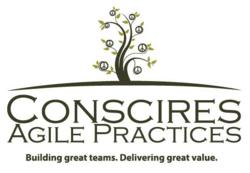 Irvine, Ca (PRWEB) March 31, 2013
Certified Training
Conscires offers http://agile.conscires.com Scrum Alliance designated trainings, upon completion of which the attendees will be eligible to a take an evaluation for obtaining the certification.
Certified ScrumMaster Training: Two day, experiential course aimed at conveying:
Scrum in Practice
Essence of Scrum
Mechanics of Scrum
Scrum Tools
ScrumMaster Skill Set
Certified Scrum Product Owner Training: Two day course specifically focused on the duties of a Product Owner:
Identifying sources of business value and using for feature prioritization
Understanding customers and users
Building and maintaining a product backlog
Release planning
Non-Certified Training
Conscires offers one-day training courses for those interested in learning more about scrum but are not willing to commit to a full course or those who want to supplement their Agile education. Conscires recommends training for organizations beginning an Agile adoption or needing to train 20 or more employees and individuals seeking specific Agile knowledge (framework overview, in a variety of Agile topics covers skills needed by Agile champions, ScrumMasters, Product Owners, Agile managers and team members). Conscires conducts public and private non certified training.
Private training courses Conscires currently offers include:
Private training is structured into a three day training model aimed at producing cohesive teams and enthusiastic Agile champions. While Conscires encourages companies to purchase the three day package, each day is available "a la carte." The usual lay out (tailored to each client) is as follows:
Day One: "What is Scrum?": This is an introductory workshop covering the basic elements of Agile and Scrum including: Essence of Scrum, Scrum Mechanics, Principles and Values, and The Agile Manifesto.
Day Two: Agile Leadership Training: The second day is more focused on preparing management and leadership (team leaders, potential Agile champions, etc) for Scrum roles and the challenges of Agile adoption.
Day Three: Product Owner Training: Possibly the most important piece of a smooth and successful Agile adoption, product owner training is conducted in small groups with heavy emphasis on mechanics and practices (prioritization, backlog grooming, story mapping, etc).
For more information please visit our website : http://agile.conscires.com/agile-trainings-workshops/ or feel free to email ClientRelations(at)conscires(dot)com.