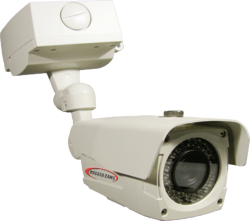 At the base of the mount is a built-in, swing-out junction box that allows the camera to be mounted in any direction and position.
Kemp, TX (PRWEB) March 29, 2013
Rugged Cams recently released the Vanguard-700, a new and improved infrared outdoor security camera designed to withstand extreme weather conditions, including rain, cold and dusty environments. In addition, this outdoor security camera takes advantage of the latest technology to produce crisp, clear images at near-HD resolution during the day and throughout the night.
The innovative design of the Vanguard-700 begins with its tough outer case. This hermetically sealed case has an ingress protection (IP) rating of 67, which means that it is totally protected against intrusions by solid particles as small as individual dust grains. The IP67 rating also means that the camera is totally sealed and is completely waterproof.
In addition to being waterproof and dustproof, the Vanguard-700 can also withstand extreme temperatures. This outdoor camera has been tested to operate in temperatures as low as -40° below zero and as high as 158° F, and it includes anti-fog protection. This is all made possible by the inclusion of a fan and a heating element inside the sealed aluminum case.
Access to the camera's interior is granted by a drop-down access door that uses a strong gasket to ensure that the IP rating is not compromised. However, this access door is not simply a door. It also doubles as a control panel that includes a navigation button, infrared control buttons and a video output connection. It is also where lens adjustments are made, safely sealing these adjustment knobs from weather and moisture.
At the heart of the Vanguard-700 outdoor security camera is a Sony 960H image sensor. This sensor can produce images with up to 700 vertical lines of resolution (800 lines in Night Mode), and 960 horizontal lines of resolution. This is very near Megapixel resolution, and a great leap forward for analog systems.
Many users of the Vanguard-700 attach the camera to a standard DVR, which records at a resolution of 740 x 480. However, users can get up to 30 percent higher resolution during playback by using the Rugged Cam 960HD DVR.
One of the most important features of this outdoor camera is the Easy Pro Install System, which can be used by anyone with basic mechanical skills to mount the camera just as well as any professional. At the base of the mount is a built-in, swing-out junction box that allows the camera to be mounted in any direction and position. It can be mounted on a wall, a ceiling, a table or any other surface without a problem, and the 3-axis swinging arm makes fine tuning a breeze.
The Vanguard-700 includes several other features that make it one of the most versatile outdoor security cameras on the market today. It has a dual-voltage power converter that accepts either 12V DC or 24V AC. In addition, the 30 wide-angle, variable-power infrared lamps with Smart IR technology give the camera an effective outdoor Infrared Lighting range of 100 feet and an indoor range of 165 feet.
About Rugged Cams
Rugged Cams has been manufacturing and distributing digital security equipment since 1993. The company is located just outside Dallas, Texas, and is well known for its innovative, Patented products and security solutions.