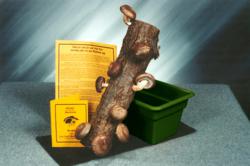 The logs we're shipping now were inoculated (seeded) last spring. They're in their first full flush and will produce a great crop. - Sandra Williams
Perkins, OK (PRWEB) March 31, 2013
In Asia, where shiitakes grow naturally, this time of year is a major gathering season. For US shiitake mushroom farmers and shiitake log owners, it's a blooming boom-season as well, according to Sandra Williams of Lost Creek Mushroom Farm.
"Spring temperatures, spring rains, and increasing sunlight hours wake up the shiitake growing inside inoculated (seeded) logs. The shiitake "fruits," or blooms, reproduces by releasing spores, and then replenishes itself until the fall, when conditions are again optimal for fruiting."
Shiitake mushrooms push through the bark of hardwood logs. After a few days, the caps open and the mushrooms release their spores. Sandra described the spore release as "magical." She said, "I first saw it from shiitakes on my kitchen table, when we were late in picking and cooking them. The spores are lighter than air. They floated and curled, turned, floated forward and backwards as they moved through the room -- a slow, graceful dance. Beautiful!"
In the forest, the microscopic spores travel -- perhaps for miles -- alight on branches, and settle into the bark. Shiitake is a decomposing fungus; and when a branch dies, the spores can then work their way into the sapwood, where they form threads of mycelia. The mycelia digest the sapwood. In time the branch drops to the ground. As they extend their threads, the mycelia form a colony inside the log. About a year later, with the spring rains, wild shiitakes push up through the bark, easily accessible for gathering.
Sandra went on to say, "For shiitake farmers today, professional mycologists grow the spores into spawn. In the winter when the sap is down, we get small-diameter hardwood logs or large branches culled from woodlot thinnings. We inoculate, injecting them with spawn; then we incubate them: From inoculation to first fruiting takes 8-12 months."
The log kits that Lost Creek Mushroom Farm is shipping right now were inoculated last spring. "These logs are in their first peak production time. They will grow increasingly larger crops for the first two years and then production tapers off over the next 2 years or so as the mycelia use up the sapwood."
The log kits grow in the house like plants or outside in shade. They can be "forced" or "shocked" with ice water to produce mushrooms every two months. They will grow organic, fresh shiitakes for 3-4 years or more. Logs require regular soaking in non-chlorinated water.
Log kits range in price from $18 for a 5-6 inch 'Shroomie to $80 for a set of two 14-inch logs with soaking trays shipped to the same address. "With two logs, owners can alternate the producing log and get a crop every month," Sandra explained, or a double harvest every two months."
"We have a 9-10 inch single log kit for $30, a Ma & Pa Kit with two 9-10 inch for $50, and our unique and popular 14-inch log with its own soaking tray for $45.95. The prices on our website include shipping and handling. No unpleasant surprises."
All kits include a log, ready to bloom, instructions and recipes. Kits 9 inches and larger are fully guaranteed to grow shiitakes.
Sandra and her husband Doug started The Voice of the Mushroom Foundation to promote education, mushroom production and consumption for health and well-being worldwide. Their Mushrooms in Ghana Project, started in 2008, has been training farmers in shiitake log production and is providing a spawn laboratory at Bemcom Training and Resource Center in Ghana, West Africa. Bemcom will make shiitake and oyster mushroom spawn for small-scale mushroom farmers, most of them women. Lost Creek Mushroom farm donates a portion of sales to these non-profit programs.
More information and ordering for Lost Creek Mushroom Farm shiitake log kits are available at http://www.shiitakemushroomlog.com and by phone at 800-792-0053. Kits are also available on Amazon.com at slightly higher prices.