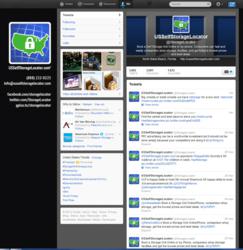 The twitter site has been newly revamped and followers are liking the tweets and the site; we have had positive increases in mentions and followers, follow us @storagelocator
North Miami Beach, FL (PRWEB) March 29, 2013
USSelfStorageLocator.com has launched a new and improved twitter page to promote their network members and the self storage industry as a whole.
They are tweeting about anything related to storage, whether it be for household goods, commercial goods, document storage, motorcycle, automobile, boat or RV storage.
Interesting topics will be tweeted, and fun and exciting photos of a whole bunch of things people could store and do store will be displayed.
"The twitter site has been newly revamped and followers are liking the tweets and the site; we have had positive increases in mentions and followers, follow us @storagelocator," says Victor Dante, CEO.
Tweeting is one of many ways USSelfStorageLocator.com is spreading the word about their brand and how easy and fast it is to comparison shop for self storage units or parking spaces online.
USSelfStorageLocator.com's twitter name is @storagelocator and some of the most common hash tags that they use and link them to other twitter related sites are #selfstorage, #storage, #carstorage, #rvstorage, #storchat, #ISSWorld, #SelfStorageAssn and #SelfStorageMag.
There are numerous uses for self storage and @storagelocator through their tweets and photos are expanding their followers vision of how self storage could be used.
About USSelfStorageLocator.com
USSelfStorageLocator.com is a online self storage comparison shopping site. Consumers are able to locate, compare and reserve a self storage unit or vehicle storage online or by phone, anywhere at anytime. USSelfStorageLocator.com features software integrations with all major property management systems, and uses the most advanced technology to pull data and push reservations in real time. USSelfStorageLocator.com's team is comprised of self storage and technology professionals, and headquartered in North Miami Beach, Florida, for more information please contact them at 888-222-0225.