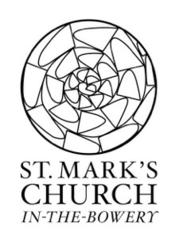 New York, NY (PRWEB) March 28, 2013
WHAT: St. Mark's Church in-the-Bowery provides worshippers with a unique, spiritually moving Good Friday experience with its annual Good Friday Blues. Framed by powerfully rendered blues and gospel music, Good Friday Blues tells the story of the betrayal and death of Jesus as written in the Gospel of John.
This year's performance features an impressive array of nationally renowned musicians and performers, including Tony Award winner and Grammy nominee Ann Duquesnay and St. Mark's Music Director Jeannine Otis.
WHEN and WHERE: Friday, March 29 from noon to 3 p.m. at St. Mark's Church-in-the-Bowery, located at Second Avenue and East Tenth Street.
WHAT MAKES IT DIFFERENT: The Good Friday Blues are a unique service, juxtaposing images of slavery and Jim Crow against the familiar Passion narrative through American Blues Music.
Even as churches shrink across the United States, St. Mark's Church in-the-Bowery continues to grow rapidly right in the heart of New York City. The church's commitment to diversity as well as its dedication to marrying art and beauty with spirituality creates soulful worship experiences and a dynamic congregation. An important space for the New York arts scene, St. Mark's provides worshippers an opportunity to connect more deeply spiritually through music, dance, poetry and more.
This year's performance marks the 12th year of this liturgy, a collaboration between The Right Reverend Catherine S. Roskam, Bishop Suffragan of New York; Otis, and the St. Mark's Choir.
WHO: Tony Award Winner and Grammy nominee Duquesnay and composer-guitarist Ana Hernandez will join the talents of the St. Mark's Choir and the Good Friday Blues Band. Liturgy dancers include Dawn Crandell and a dancer from the Vissi Dance Theater. Co-narrating the Passion are Vinie Burrows and Amelia V. Anderson. Leading insightful and thought-provoking meditations throughout the service will be the Rector of St. Mark's, The Rev. Winnie Varghese and The Rev. Richard Witt and Nell Gibson.
For a complete list of musicians, soloist and dancers, please contact Erin White at 212.255.2575.
St. Mark's Church in-the-Bowery is located in New York City's East Village, at the intersection of 10th Street and Second Avenue. The property has been the site of continuous Christian worship for more than three-and-a-half-centuries and is the second-oldest church building in Manhattan. St. Mark's has a long history of supporting the arts and social justice, dating back to the 1920s. Today the church is a progressive Episcopal congregation and continues to serve as a center for modern dance, experimental theater and poetry and as a community gathering place for the Lower East Side.