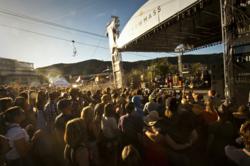 "We are really excited to build upon and expand this already amazing festival while assuming the management of the popular Snowmass Chili Pepper & Brew Fest," said Steve Gumble, President of SBG Productions and Festival Director.
Snowmass, CO (PRWEB) March 28, 2013
A weekend of great music awaits concert-goers with the announcement of Snowmass Mammoth Fest's 2013 festival lineup. The June festival's lineup will include Friday headliner Return to the Dark side of the Moon, a legendary group of all-star funk-and-fusion musicians, featuring Melvin Gibbs (Defunkt, Henry Rollins); singers Corey Glover (Living Colour, Galactic); Nona Hendryx (Labelle) plus guitarist Blackbyrd McKnight (Parliament Funkadelic, Red Hot Chili Peppers); saxophonist Karl Denson (Lenny Kravitz); keyboardist Bernie Worrell (Parliament Funkadelic, Talking Heads); and drummer Sim Cain (Henry Rollins), as they explore the 40th Anniversary of Pink Floyd's Dark side of the Moon. Saturday night's headliner will feature Red Bull Records Los Angeles based indie rock artist, AwolNation. Additional festival weekend performances will include JJ Grey & Mofro, The Joy Formidable, Karl Denson's Tiny Universe, STRFKR, twenty one pilots, Lord Huron, Fierce Bad Rabbit, and You, Me & Apollo. Festival tickets are on sale now at SnowmassMammothFest.com.
Along with an amazing weekend of music and entertainment, the Snowmass Mammoth Fest will host the renowned chili and brew competitions and tastings on both Friday and Saturday with a jam-packed weekend of music to complement both events. Friday night kicks off the festival weekend at its new venue, Snowmass Town Park, with chili and brew tastings and main stage music until 10:00 p.m. Festival goers can prepare for a full day of music on Saturday with another chili and brew tasting kicking off at 1:00 p.m. The festival offers on site camping, late night shows, crafts from local and regional artisans and food from top area vendors and restaurants.
Tickets for Early Bird Two-Day, Single Day, and Camping passes are on sale now. Early Bird Two-Day passes are $60 each (a savings of $20), Friday Single Day tickets are $35 each, and Saturday tickets are $55 each. Two-Day camping passes are $30. The official Snowmass Mammoth Fest lodging partners include the Westin/Wildwood Snowmass and The Crestwood Condominiums. Additional, Snowmass lodging partners will be offering festival lodging specials. For festival information and updates, please go to SnowmassMammothFest.com or call 1800SNOWMASS (1-800-766-9627).
About Snowmass Mammoth Fest
The Snowmass Mammoth Fest is officially presented by the 10th Annual Snowmass Chili Pepper & Brew Fest. The festival is a two day celebration of music, specialty chili and microbrew tastings in Snowmass, Colorado.
'Like' us on Facebook: https://www.facebook.com/SnowmassMammothFest
'Follow' us on Twitter: https://twitter.com/SnowmassFest
SBG Media Contact: Bill Kight, Director of Marketing and Public Relations, SBG Productions, 970-728-8037x107 or bill(at)sbgproductions(dot)com. @wbkight
Snowmass Tourism Media Contact: Patsy Popejoy, Public Relations Manager, Snowmass Tourism, 970-922-2285 or ppopejoy(at)snowmasstourism(dot)com.
# # #