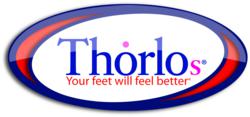 Statesville, NC (PRWEB) March 29, 2013
On April 1, blind long-distance hiker Trevor Thomas begins a 90-day hike on the new, Mountains-to-Sea Trail, that will take him from Clingman's Dome in the Smoky Mountains of North Carolina to the Outer Banks of North Carolina, on the Atlantic Ocean. Although Thomas will self-navigate the trail, using guidebook information emailed to his iPhone, he will also—for the first time—be joined by a guide dog, Tennille.
"Tennille will fill in any information gaps because she has been trained to find the signs," Thomas says. But she is also an extra responsibility for the hiker. "One concern is weather. I've already hiked in some of the worst conditions that US trails can throw at me. But I'm not sure how Tennille will do in harsh weather, day in and day out. Another concern is that we may run into unfriendly dogs on rural roads, and that could put my safety, as well as Tennille's, at risk."
Despite these concerns, "Getting Tennille is the best decision I've ever made," Thomas acknowledges. "She actually has made my blindness a positive experience. She puts people at ease, and that gives me the opportunity to educate them about what it means to be blind. She's a wonderful companion and has turned into quite a good trail dog."
In addition to THORLO, Thomas has financial and/or equipment support from Guide Dogs for the Blind, which trained Tenille, and Ahnu, Big Agnes, ExOfficio and Marmot.
"We are proud to help support Trevor on his landmark journey," says Jim Throneburg, THORLO founder and CEO. "He is an inspiration to all of us, and we look forward to following his progress."
Follow Trevor Thomas on the trail on Trevor's or THORLOS Facebook page or at http://www.blindhikertrevorthomas.com/.
About THORLO®
THOR•LO, the originator of the Thorlos® brand, is committed to providing consumers with the best engineered foot protection through activity-specific padded socks that are clinically-tested. Peer-reviewed, published clinical research has shown Thorlos unique designs reduce blisters, foot pain or discomfort, pressures and moisture. Learn more at http://www.thorlo.com or call 1-888-846-7567.
About Guide Dogs for the Blind
Guide•Dogs for the Blind, founded in 1942, is a nonprofit organization that provides guide dogs to those who are blind and visually impaired. The organization currently has 2,100 active guide dog teams in the field, and has provided more than 12,000 trained guide dogs to people who are blind and visually impaired throughout North America. GDB is supported entirely through private donations. All services, including lifetime graduate support, are provided free of charge to the blind or visually impaired student. Learn more at http://www.guidedogs.com or call 800-295-4050.
About Ahnu®
A division of Deckers Outdoor Corporation, Ahnu makes shoes for fitness-minded people who prefer trails over treadmills. Named after the Celtic goddess of balance and well-being, Ahnu embodies the harmony of fitness and fashion, work and play and business and philanthropy. Learn more at http://www.ahun.com or call 877-337-8333.
About Big Agnes®
Named for a peak in the nearby Mt. Zirkel Wilderness, Big Agnes, Inc. produces sleeping bags, pads and tents. Big Agnes is the exclusive distributor of Helinox trekking poles and camp furniture in North and South America. Learn more at http://www.bigagnes.com or call 877-554-8975.
About ExOfficio®
ExOfficio crafts garments that allow travelers to experience the world unhindered through clothing that packs well with durable performance for a lifetime. Learn more at http://www.exofficio.com or call 800-644-7303.
About Marmot®
Marmot is a globally distributed brand of high-performance, technical clothing, apparel and equipment. Marmot works with professional mountain guides, world-class athletes and expeditions—pushing the limits of product innovation and technology in the most extreme environments on earth. Learn more at http://www.marmot.com or call 888-357-3262.