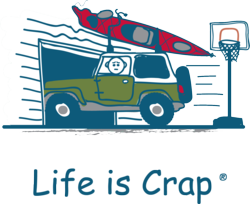 Life is Crap ... Laughter is the Cure.
Manchester, Vermont (PRWEB) March 29, 2013
Have you ever had an Oh Crap moment?
Like going to park the car in the garage, only to remember at the last moment, the mountain bike, surfboard, or kayak is still attached to the roof. How about hopping on the mountain bike to race friends down a hill, not really taking into consideration stopping when hitting the bottom. These moments happen at one time or another to everyone.
A small company named Life is Crap nestled among covered bridges, and the majestic Green Mountains of Southern Vermont has developed a hilarious line of apparel and gifts built around everyday crappy situations. As Paul Wheeler, The King of Crap, puts it, "The company mantra is 'Crap Happens and Laughter's the Cure', and it's true!"
The folks at LIFE IS CRAP®  feel that the universal cure to crappy situations is laughter. The team believes that poking a little fun at each other, as well as the world, is the best way to get through those occasional lousy moments. So for those who aren't eternal optimists, let LIFE IS CRAP® be the anthem.......Because the glass is usually half full ... only sometimes it's half full of crap.
So instead of being embarrassed by foolish moments, take a page out of the Life is Crap handbook. Embrace and wear it proudly on Tee shirts or a Hooded Sweatshirt for the world to see. Or better yet, grab two ...  one for yourself and one for a friend. The products really do make awesome gifts. Remember Crap Happens and ... Laughter's the Cure!
In honor of April Fools ... All weekend long, celebrate life's foolish moments, with the Life is Crap free shipping offer.
Spend $29 or more in their shop this weekend and get free standard shipping.
Use the code: FOOLISH2013 at checkout.
The free shipping offer ends on the 1st at midnight.
Have a happy and aafe "April Fools Weekend."