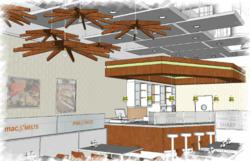 Just looking at it gives you the impression of a multi-unit operation. In my opinion, Mac & Melts has the look, feel and, most importantly, the concept to explode in the next couple of years.
Long Island, NY (PRWEB) March 29, 2013
Origin Display Group Inc., a leading supplier of indoor, outdoor, and digital menu boards, together with Dallago Associates, have been selected to design, develop and install custom menu boards for Mac & Melts' flagship location. The first restaurant is slated to open in the Spring of 2013 and will be located at 684 Stewart Avenue in Garden City NY - in the same strip mall as Moe's Southwest Grill and Pizza Supreme.
Despite further refinement, the menu system is expected to exceed 10 feet, make use of wood and/or laminate, have three light fixtures and use chrome stand-offs to hold 27 plaques that will display the menu items. As you walk in to the location, the menu board will be located to the left, allowing for great visibility for those deciding what to order as well as for those sitting with their meal contemplating what they may try "next time."
Mac & Melts is a new one-of-a-kind restaurant. The extent and variety of their staple menu items are unmatched in the industry. They are devoted to providing fresh-cooked food, all making use of the finest gourmet cheeses; however their leadership wants to make it clear that is isn't "just a cheese place." Mac & Melts will offer sandwiches, pastas, salads, and a range of high-quality menu items that are made from scratch every day.
At the front and center, visitors to Mac & Melts can expect a casual flair and laid-back environment with dozens of comfort food menu items to choose from, including a kids menu. Their commitment is to keep things fresh and varied over time.
Vic Pereira, Origin Displays' VP of Sales & Marketing, discusses Origin's involvement with the Mac & Melts team. "Given the opportunity to take a glimpse at the location and a peak at the millwork, it is clear that they have not left any rock unturned. Just looking at it gives you the impression of a multi-unit operation. In my opinion, Mac & Melts has the look, feel and, most importantly, the concept to explode in the next couple of years. They have a created something that fills a void in the market that has existed forever with meals that get consumed in almost every household across the country. As a matter of fact, macaroni and cheese is the number one cheese-related recipe in the United States and in any given twelve-week period, approximately one-third of the population will eat macaroni and cheese at least once. Because of all of these reasons, we are very excited to be working with them. Although not one of the larger capital expenses, the menu boards are critical to a restaurants success. Between us and Dallago Associates, we are taking a methodical approach to get it right. After all, it is in our best interest to do so given Mac & Melts likelihood for success."