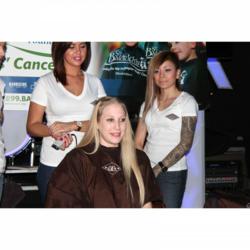 'Charities supporting children with life threatening illnesses holds a special place in my heart. We are thankful for and happy to support charities like St. Baldrick's that lend a hand to children in need,' says owner of The Gents Place,Ben Davis.
(PRWEB) March 28, 2013
St.Baldrick's began as a "head shaving" event and although it has evolved into much more, still continues to host thousands of fundraising shaving events around the world. The "shavees" will volunteer to get their hair shaved off in front of the crowd and ask friends and family to make donations on their behalf. St. Baldrick's volunteers have made it possible to fund more in childhood cancer research grants than any organization besides the U.S. Government.
The event is set to take place on April 4th at McFaddens in Addison, Texas from 5:00 to 8:00 p.m. The Gents Place will have a team of stylists on site, dedicated to shaving the volunteer's heads in efforts to raise crucial funds for childhood cancer research. There are several ways to participate; be a shavee, start a team of shavees, donate an auction prize or donate funds to one of the shavees. The Gents Place invites everyone to join in for such a great cause.
About The Gents Place
Founded in 2008 by Ben Davis, a frustrated guy who hated getting his haircut, The Gents Place offers men's grooming and lifestyle products and services in a masculine, yet relaxed country club type environment. They offer men's hair services, hand and foot repairs, straight razor shaves, massages, shoe shines and more. Frequently referred to as America's Premier Men's Grooming and Lifestyle Club with locations in Texas (Dallas, Frisco) and Kansas (Leawood), The Gents Place is known for its commitment to client service and top shelf amenities.
To learn more about The Gents Place, please visit http://www.thegentsplace.com.