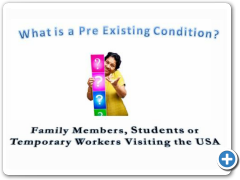 The Scheduled Benefit plan is a stopgap insurance for new immigrants and citizens in the United States
Orlando, FL (PRWEB) March 29, 2013
India Network Health Insurance, a US-based health insurance administrator, announced today a new fixed benefit health insurance program designed to assist new immigrants, including green card holders, and new citizens. Many immigrants moving to the United States in the later part of their lives often find it difficult to get health insurance due to existing medical conditions.
The Affordable Care Act, also known as Obama Care, is expected to be in full effect by 2014, providing health care coverage to all US Citizens through health insurance exchanges in each state. However, those who are already in the United States with existing medical conditions need health insurance coverage now. The scheduled benefit program fills that gap by providing affordable coverage to new immigrants and citizens below 64 years of age with premiums starting as low as $148 per month.
India Network Foundation, a non-profit US-based sponsor of visitor health insurance in the USA, continues to offer both network based plans (comprehensive plans) and scheduled benefit plans (fixed benefit plans) for visitors coming to the United States. These plans are available to all ages from 0-99 years old with no medical underwriting. A new version of "InstantQuote" will assist members in choosing the right plan for their visitors. The InstantQuote tool is designed to take the complexity out of the selection process when choosing an insurance plan by showing the benefits and premiums by age group with only a few clicks. Both network based plans and fixed benefit plans offer a pre-existing condition coverage option.
Dr. KV Rao, India Network Foundation founder, commented, "The new InstantQuote tool is the only tool you need to understand all of the available medical insurance coverage plans, limits, and premiums in one easy-to-read format. We hope it helps those enrolling for the first time, as well as those returning members, to see all available programs."
Insurance plans can be confusing with several pages of exclusions and bewildering terminology. Today, almost all visitor health insurance plans in the market either fully or partially deny all claims related to heart problems, stroke, brain hemorrhage, etc. under one pretense or another. Diabetes and blood pressure are two prominent medical problems among Indian visitors to the United States and most require at least one visit to an emergency room during their stay. India Network highly recommends anyone over age of 60 to obtain coverage that includes the pre-existing coverage option. One of the main strengths of the India Network pre-existing condition coverage is that it considers pre-existing medical conditions on par with new problems except they are subject to different deductibles.
About India Network Foundation
India Network Foundation, established as a US non-profit organization, has been helping the Asian Indian community in North America with programs and grants to academics from India for more than two decades. India Network Foundation sponsors visitor health insurance to tourists, students, temporary workers (H1 visa holders) and their families.
For more information visit http://www.indianetwork.org
About India Network Health Insurance
India Network Health Insurance is a US based company that administers visitor health insurance to transition residents, tourists, students, temporary workers and their families. Visitor medical plans are offered for all age groups with both fixed coverage, comprehensive coverage and with pre existing condition coverage. India Network Services also offer scheduled benefit plans for US Citizens and Green Card holders under the age of 64.
For more information visit http://www.kvrao.org