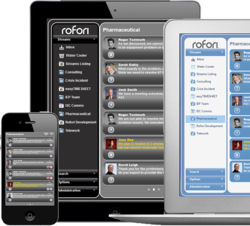 Manassas, VA (PRWEB) March 30, 2013
Rofori offers businesses and organizations a collaboration environment that enables a focus on accomplishing team objectives, eliminating status meetings, preventing loss of institutional knowledge, measuring productivity status, and managing expectations.
The rofori user-configurable console proactively polls all messages to alert by message type, people, emails, and activity. Cloud file storage is available with rofori file storage and/or the integrated Dropbox file storage option. With natural structuring of messages when created, rofori enables an intuitive and easy way to search information and dialogue instantly.
Rofori has completed its first phase of salesforce.com integration allowing stream members to have meaningful structured dialogue surrounding analysis and strategy discussion of salesforce.com dashboard metrics.