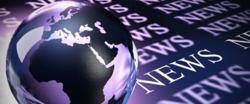 Breaking News App curates all of the selected news sources and leverages on a proprietary set of algorithms which filter through the most relevant news content.
New York, NY (PRWEB) March 29, 2013
World news dominate the stage as uncertainty over the financial crises overseas persists. After two weeks of being restricted from accessing their bank accounts, the Cypriot banks finally re-opened their doors to the locals, which can only be seen as a small patch to what is an otherwise deep and painful economic wound.
In other international news, the latest from Syria reports that mortar shelling kills 12 in Damascus University. "Several shells fell inside the campus. The number of dead is likely to rise due to the large number of injuries," the London-based Syrian Observatory for Human Rights reported. Daily news of fighting between rebels and Bashar al-Assad's forces in Damascus have not seceded as the fighting has been raging for months on end amidst a growing number of mortar shillings, and car bombs have been reported recently.
Breaking News curates news of the day from its list of selected news sources and leverages on a proprietary set of algorithms which filter through the most relevant news content.
Core features of this news app include:
Custom Curated Sources List. Content articles pulled from individualized customized lists of publications, journalists, institutions and opinion leaders for each subject channel.
Proprietary Algorithm. This App uses a proprietary algorithm to review our content source lists selecting interesting articles, videos and audio content and filtering out items considered of low interest.
Friendly User Interface. The App's user interface is designed to facilitate the efficient review and reading of the content, providing for easy operation and movement throughout.
Current Content Curation. Breaking News delivers professional-grade World News including the US and Europe, as well as Weather Alerts, a Fun and Odd section, and Celebrity News.
Sharing. You can distribute content you like using a variety of social tools, including Twitter, Facebook and Instapaper for future reference.
Requirements - iPad and iPhone

Internet Connection to load and view content
Optimized for iOS6
--
Mighty Mack is a leading publisher of distinguished digital products for the consumer and professional markets. The Company leverages newly available digital tools to create, design, and share new ways of consuming information and experiencing the world around us. The company has released a variety of best-of-class Apps, including Advertising Today, Morpheus Dreams, Where2Boss?, Agora Briefcase, Film Today, among many others.
To learn more about MightyMack please visit their website at http://www.mightymack.com or email them to press(at)mightymack(dot)com.