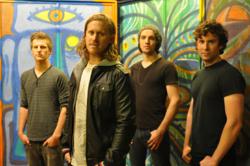 Los Angeles, CA (PRWEB) March 29, 2013
The Agency Group, one of the world's most prominent booking agencies, added 2013's band to watch for, Fallen Riviera to their already impressive client roster.
The band started this year with a bang, celebrating the release of their debut album, Another World (produced by music legends, Ken Scott & Wyn Davis) and the recently released music video for their hit single song, "Those Times Are Gone".
Initially catching the ear of legendary music producer, Ken Scott, and now seasoned booking agent, Andy Somers, it's not long before the rest of the entertainment industry becomes infatuated with Fallen Riviera's classic rock sound.
The Agency Group holds a noteworthy client roster, representing some of music's biggest artists, such as Cher Lloyd, Guns n' Roses, B.o.B. and Pink Floyd, just to name a few. Fallen Riviera's rising popularity and infectious sound is bound to make them another "great" on The Agency roster. Be sure to watch for Fallen Riviera this summer in a city near you.
More About Fallen Riviera
Will Parry and Steve Ornest formed the band, Fallen Riviera while attending Berklee College of Music in Boston. Only recently making the move to Los Angeles, the rock band has already taken over the Los Angeles Music Scene. Fallen Riviera's first EP, Six Mines, was ranked Album of the Year by Music Connection Magazine and awarded the band the 2011 Lauren Picard Emerging Artist of the Year Award at Cornell University. Their debut album, Another World, was released in early quarter of 2013 with the help of legendary producers, Ken Scott and Wyn Davis. Taking Los Angeles by storm, Fallen Riviera is on rotation through various radio stations and is also available for download on iTunes.
For booking please contact |
Andy Somers
Sr. VP-The Agency Group
310-385-2800
Andysomers(at)theagencygroup(dot)com
Emilio Grijalva
Emilio(at)theagencygroup(dot)com
For Media Inquiries, please contact |
Juliette Harris
Juliette(at)itgirlpublicrelations(dot)com
Samantha Cohen | 818-825-5798
Sam(at)itgirlpublicrelations(dot)com