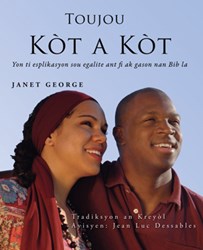 Minneapolis, MN (PRWEB) March 28, 2013
Christians for Biblical Equality (CBE) is sponsoring six non-English translations of 'Still Side by Side' by Janet George. 'Still Side by Side' is an introduction to the biblical basis for the shared leadership and authority of males and females in the church and the home. Each chapter is introduced with a question and brief answer, followed by a more in depth biblical explanation. It is a valuable resource for individuals or groups who are seeking answers to the questions surrounding gender and the church.
CBE's translations of 'Still Side by Side' include Swahili, Hatian Creole, Arabic, Nepali, Khmer, and Spanish. These translations represent areas in which CBE's ministry and outreach is active. CBE hopes that these translations will help share information about gender equality and equality in ministry globally. These resources supplement international conferences on Scripture's teachings regarding gender, authority, and faith in locations where these languages are spoken.
In the future CBE hopes to continue publishing new translations of 'Still Side by Side' and other resources in order to reflect its increasingly global mission.
In its effort to advance a biblical foundation for gift-based rather than gender-based ministry and service, CBE sponsors annual conferences, facilitates local chapters, hosts an online book service, and publishes two award-winning journals. For more information, visit http://www.cbeinternational.org.