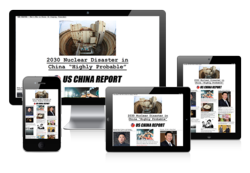 GREENWICH, CT USA (PRWEB) March 28, 2013
USChinaReport.com website launched as the comprehensive source for news, blogs and academic papers on China and US-China relations. The site was launched March 18th and has already had over 5,000 views and more than 750 unique viewers. The website can be viewed at http://www.uschinareport.com.
USChinaReport.com is a news aggregate site that draws from traditional and non-traditional media sources, highly regarded bloggers in the United States and around the globe, and prominent scholars. It is an independent portrayal of news, opinions, and academic work presented without bias. USChinaReport.com seeks to inform, clarify, and update the dialogue about China, so that people and businesses develop a more accurate understanding and both countries benefit.
#30#