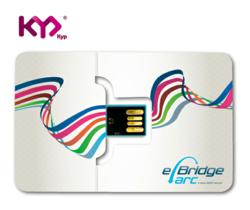 Kyp delivered a product that was better than we could have originally hoped" - Sheree Yoon, Assistant Project Manager at Harlequin MIRA
London, UK (PRWEB) March 30, 2013
One of the world's leading publishers of books for women, Harlequin, incorporates Kyp's eBridge Arc into their publication release trade promotions campaigns to drive consumer engagement and awareness.
The eBridge Arc has been designed to deliver the 'ultimate consumer journey' creating captivating experiences that take consumers on an enhanced journey from print, to rich media, to the web and beyond. This patented format allows for delivery of high-quality video, audio, applications, documents or files into the hands of the final user while driving them seamlessly online. The Arc is an effective way for Harlequin to give buyers information about upcoming books, inspiration behind the books and a digital advance reading copy in a convenient and innovative manner.
"Kyp exceeded every expectation we had with this project. Not only were they incredibly accommodating on, what was for us, a new initiative, they accepted those challenges and delivered a product that was better than we could have originally hoped," said Sheree Yoon, Assistant Project Manager at Harlequin MIRA. "We are absolutely impressed with their professionalism, competency and efficiency and look forward to working with them again".
Kyp's bespoke solution enables Harlequin to efficiently leverage publicity and marketing, while creating an entertaining and enriched experience.
About Harlequin
Harlequin is one of the world's leading publishers of books for women, with titles issued worldwide in 31 languages and sold in 110 international markets. The company publishes more than 110 titles monthly and more than 1,200 authors from around the world. Harlequin is a wholly owned subsidiary of Torstar Corporation. Harlequin's website is located at Harlequin.com. Harlequin has offices in 18 countries, including offices in Toronto, New York and London. For more information, please visit Harlequin.com and Facebook.com/HarlequinBooks. Follow Harlequin on Twitter @HarlequinBooks.
About Kyp
Kyp is a provider of engagement marketing solutions to leading brands and companies. Kyp's solutions empower marketers to connect wit audiences through intuitive learning experiences that begin in the physical word and end in the digital. Through an ever-evolving portfolio of patented solutions and proprietary applications we quide audiences on personalized and progressive engagement journeys. To learn more about Kyp, please visit Kyp.com and Facebook.com/KypLondon. Follow Kyp on Twitter @KypLondon.