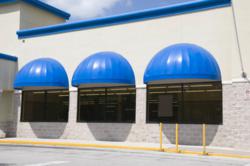 Cincinnati, OH (PRWEB) March 30, 2013
Miami Corporation, celebrating their 90th year as a leading supplier of original equipment manufacturer (OEM) and aftermarket automotive, awning, contract and marine markets with interior and exterior products, is releasing their 2013 Awnings Fabric Book just in time for spring.
Miami Corp offers a vast array of fabrics for RV awnings, camper awnings and patio awnings. The book introduces new product lines such as Soluna, a 19 oz. waterproof and fire resistant PVC-coated polyester fabric with a low sheen and orange peel embossed finish. The Soluna line offers exceptional resistance to UV rays and is highly resistant to mildew and fungus as well as being dimensionally stable to eliminate sagging. Flame Retardant Broadway is another new addition featuring 100% solution-dyed woven polyester utilizing a proprietary process to coat the bottom. It is 60" wide and 10 ounces per square yard and is dimensionally stable. Additionally, because Broadway fabrics are solution-dyed, fading will never be an issue.
Along with other new product lines that are being introduced, Miami Corp's existing lines are also featured their 2013 Awnings Fabric Book. Both Recacril and Sattler are adding a myriad of new colors and patterns to their lines.
Miami Corporation has awning fabrics to fulfill any awning requirement. Visit their website at http://www.miamicorp.com/ to request the new 2013 Awnings Book and get more information on the entire line of awning fabrics.
"The awning market has evolved from just simply a need for shade to a need for diverse product options. We carry a multitude of products to satisfy the toughest demands. Whether it's fire retardancy, vinyl coated, or fashion oriented, we have the products to appease the buyer." Kerry Niehaus, Director of Marketing, Miami Corporation
The Miami Corporation, founded in 1923, is a distributor to the automotive, awnings, contract and marine interior and exterior trim products for both manufacturing and aftermarket companies. The company's product line includes awning fabrics, auto upholstery, auto carpet, marine carpet, marine upholstery, convertible tops and contract upholstery fabric as well as other interior and exterior trim products. Miami is dedicated to providing the highest level of customer service. All in stock orders are shipped the day the order is placed. Miami employees support customers with their in-depth product knowledge. A family owned and privately held company, Miami Corporation is based in Cincinnati, Ohio with an office and distribution centers in Albany, NY, Arlington, Texas and Jacksonville, Florida.