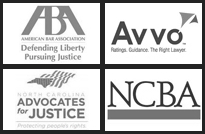 Durham, North Carolina (PRWEB) March 29, 2013
"We have become more and more aware of individuals throughout North Carolina using the Internet to search for information that will assist them with their personal injury case. I want Pierce Law to aid these victims by providing easy to understand information and advice."
Durham personal injury lawyer and North Carolina wrongful death law firm, Pierce Law is pleased to announce the launch of their new personal injury website
Pierce Law's new website has been designed and created for those who have been injured in an accident and who are seeking information. After speaking to hundreds of accident victims, Pierce law identified that many accident victims seek information on how to handle their car accident claims alone, only to realize that there is little to no information that isn't a direct sales pitch about hiring a lawyer or law firm.
The website allows accident victims to focus on what they can do to build and preserve their claim, rather than why they should become a future client to a law firm. Visitors to Pierce Law's new site can learn about what is necessary to protect their case or secure evidence for an insurance claim. Pierce Law's goal is to empower accident victims through information to ensure that their legal rights are protected.
In a recent roundtable discussion with the founder of Pierce Law, J. Wallace Pierce said, "We need to become more and more aware of individuals throughout North Carolina using the Internet to search for information that will assist them with their personal injury cases. I want Pierce Law to aid these victims by providing easy to understand information and advice."
While Pierce Law believes that knowledge is power, having individuals make informed decisions will ensure that large insurance companies are no longer taking advantage of individuals who have been injured through no fault of their own.
About Pierce Law Offices, PLLC
Pierce Law is a Durham Personal Injury law firm handling serious car accident cases, truck accident claims, motorcycle accident claims, wrongful death cases, serious injury cases, and catastrophic injury claims throughout North Carolina.
If you believe that you have been injured due to someone else's actions or negligence, it is important to talk to a licensed North Carolina lawyer. Pierce Law Offices has the resources and assets to guide you and your family through this traumatic time.
###