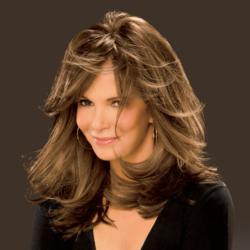 We keep track of what's on the red carpet and what the hot new stylists are doing. But we also notice when a woman looks good just walking down the street...how her hair moves, how it looks in the sun…and are inspired by that too
West Bridgewater, MA (PRWEB) March 29, 2013
VERSAHAIR, a leading wholesaler, specializing in developing exciting hair products for the professional market, is proud to introduce our new and exclusive Jaclyn Smith Wig Collection. This collection features extraordinary hairstyles created by award-winning actress and designer Jaclyn Smith along with long-time friend and famed celebrity hair stylist José Eber. From full-coverage wigs to volume-boosting hairpieces to quick ponytails and up-dos, women can now get the glamour without the work.
During her years in Hollywood and the fashion industry, Jaclyn enjoyed wearing wigs and other hair enhancements. She has not only learned what looks good on her, she has also learned what other women need for their hair fashion.
Which is why, whether women want to try a hot new trend, a new length, or a new color, they'll find the perfect wig style in Jaclyn's exciting new collection. Her extensive collection includes 100% human hair wigs, human hair blends, lace fronts, monofilament styles, SOFTouch® styles, hairpieces … everything that's trendy plus beautiful solutions for women with thinning hair or medical hair loss.
VERSAHAIR recently had the opportunity to interview Jaclyn to get some of her thoughts on her fresh new collection. When asked what gets her especially excited about her hairstyles, she replied: "New developments in totally natural-looking fibers and designs…like our monofilament styles…really make it impossible to tell someone is wearing one of our new wigs, even up close."
"We keep track of what's on the red carpet and what the hot new stylists are doing. But we also notice when a woman looks good just walking down the street…how her hair moves, how it looks in the sun…and are inspired by that too," added Smith.
We asked what makes your colors look so natural? And José Eber replied: "Changes from root to tip, the way sun highlights hair…Mother Nature is the true inspiration for all Jaclyn Smith colors."
Putting that confident smile on a customer's face when she looks in the mirror wearing her new Jaclyn Smith hairstyle…that's what it's all about. The new Jaclyn Smith Wig Collection celebrates women's beauty and brings it out for the world to see.
Christian Feuer, CEO of Specialty Commerce Corp., believes: "When your hair looks great…you feel great! Many women like to have the freedom of changing their hairstyle from time to time. Your clients will absolutely love these Jaclyn styles and will probably want to experiment with several. As the #1 wig supplier in the country and featuring the latest celebrity-inspired looks, VERSAHAIR is committed to offering the finest quality wigs at low wholesale prices to allow generous margins to its resellers."
VERSAHAIR is a wholesale division of Specialty Commerce Corp., one of the nation's leading multi-channel direct marketers. With a modern, efficient and finely-tuned infrastructure we serve the women's hair fashion, medical hair loss and apparel markets as well as providing continuing education for professionals. From operations in the U.S. and the United Kingdom our catalogs, websites and retail stores serve a multinational cross section of customers around the world.
Visit our website, stylebyjaclynsmith.com