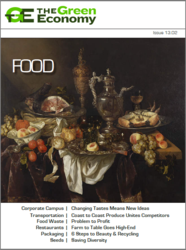 By showing our readers how companies are already innovating their supply chains, waste streams and corporate culture, we hope to help them take control of their food streams, cut costs and feel good doing it.
Princeton, NJ (PRWEB) March 30, 2013
Changes in food transportation, disposal, and diversity are affecting companies at every level of doing business, according to The Green Economy's latest magazine.
Corporations, including Intel, Novo Nordisk and Aramark, are changing to meet the needs of a diverse workforce. Food manufacturers, like Ocean Spray Cranberries, are partnering with competitors to lower costs and emissions when shipping products from coast to coast.
Farm-to-table restaurants are becoming more popular, while companies such as Weis Markets are developing cost-effective programs to safely dispose of food waste.
"Food is an encompassing topic with many economic and environmental impacts," said Tana Kantor, publisher of The Green Economy. "By showing our readers how companies are already innovating their supply chains, waste streams and corporate culture, we hope to help them take control of their food streams, cut costs and feel good doing it."